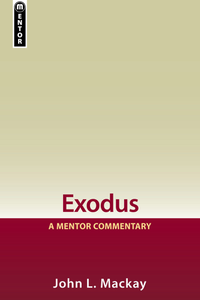 A Mentor Commentary: Exodus
Product Details
The book of Exodus is about a journey: a journey out of Egypt, but more particularly a journey from a land where God's power, sovereignty and continuing interest in his people could be easily questioned, to a place where God dwelt in the midst of his people. Exodus describes God's power, his redemption of his people, his covenant requirements at Sinai, and the rules of his worship. John L. Mackay interacts with other scholars in either text or footnotes. In addition to exploring the meaning of the text he examines the chronology, authorship, composition ,and structure of Exodus. At the end of each section he provides a reflective comment.

The Mentor Commentary is an exegetical commentary, with authors who hold a high view of Scripture. This means it takes a verse-by-verse approach to examining and explaining each text that comes from the ancient languages. Greek and Hebrew words are discussed, but no language training is necessary. What you get is refreshing new insight into each verse. In Wordsearch, these volumes contain tons of Scripture cross-references that are all hyperlinks. By simply hovering your cursor over each link, you can quickly read each reference in its entirety.

About the Author:
John L. Mackay was the Principal of the Free Church College, Edinburgh where he taught Old Testament from 1983 until his retirement in 2013. He is a highly-respected Old Testament scholar and has authored several well-received commentaries on a range of Biblical books.