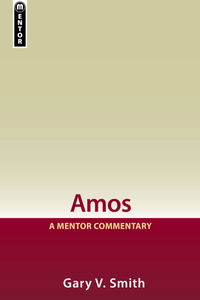 A Mentor Commentary: Amos
Product Details
The book of Amos is full of wordplays, double entendres, pictorial visions, and direct statements of fact and judgement. The author Smith's job is to address the historical, stylistic and interpretative aspects of Amos: not just what is written, but also how and why the prophecies are recorded. Each chapter ends with him drawing together the interpretative threads arising from the passage.

The Mentor Commentary is an exegetical commentary, with authors who hold a high view of Scripture. This means it takes a verse-by-verse approach to examining and explaining each text that comes from the ancient languages. Greek and Hebrew words are discussed, but no language training is necessary. What you get is refreshing new insight into each verse. In Wordsearch, these volumes contain tons of Scripture cross-references that are all hyperlinks. By simply hovering your cursor over each link, you can quickly read each reference in its entirety.

About the Author:
Gary V. Smith is professor of Christian Studies at Union University, Jackson, Tennessee.