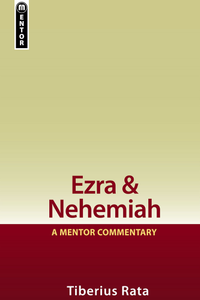 A Mentor Commentary: Ezra & Nehemiah
Product Details
Through these fascinating Old Testament books, Ezra and Nehemiah, you will discover a God who is in control of history and the hearts of his people. It is a real encouragement to be reminded how Yahweh can even work through the lives of secular leaders, just as he did with the Persian Kings, Cyrus, and Artaxerxes.

The Mentor Commentary is an exegetical commentary, with authors who hold a high view of Scripture. This means it takes a verse-by-verse approach to examining and explaining each text that comes from the ancient languages. Greek and Hebrew words are discussed, but no language training is necessary. What you get is refreshing new insight into each verse. In Wordsearch, these volumes contain tons of Scripture cross-references that are all hyperlinks. By simply hovering your cursor over each link, you can quickly read each reference in its entirety.

About the Author:
A native of Romania, Tiberius Rata is the chair of the Biblical Studies Department and professor of Old Testament Studies at Grace College and Theological Seminary, Winona Lake, Indiana. He is a member of the Evangelical Theological Society and the Institute for Biblical Research and has presented papers at the national conventions of the Evangelical Theological Society. He is married to Carmen and they have two sons.