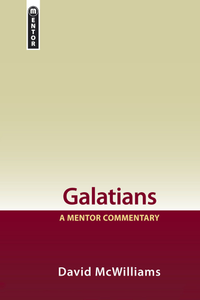 A Mentor Commentary: Galatians
Product Details
While Dr. McWilliams' exposition of Galatians keeps in mind the various mischaracterizations of Paul's epistle that have become dominant, his purpose is not primarily polemical. The author sees Paul's paramount concern to be acceptance with God through the work of Christ. McWilliams affirms: "everywhere in every way Paul's concern is with the gospel; he is concerned with the personal salvation of sinners." Written principally, though not exclusively as an aid to preachers, Galatians is an exposition that is scholarly yet readable, combining the rare qualities of depth and brevity. Galatians is sent out to the reading public with the prayer that it might be used of God to extend the gospel of Jesus Christ and the truth of justifying righteousness through the proclamation of free grace to sinners who need the message of salvation through Christ alone!

The Mentor Commentary is an exegetical commentary, with authors who hold a high view of Scripture. This means it takes a verse-by-verse approach to examining and explaining each text that comes from the ancient languages. Greek and Hebrew words are discussed, but no language training is necessary. What you get is refreshing new insight into each verse. In Wordsearch, these volumes contain tons of Scripture cross-references that are all hyperlinks. By simply hovering your cursor over each link, you can quickly read each reference in its entirety.

About the Author:
David McWilliams has been the senior pastor at Covenant Presbyterian Church, Lakeland, Florida for 20 years. He has a passion for Christ-centered preaching and wished to apply the theology of the life of the church.