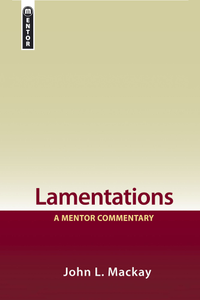 A Mentor Commentary: Lamentations
Product Details
The five chapters of Lamentations may be easily overlooked. Not only is it brief, but it is also sandwiched between the two giants of Old Testament prophecy, Jeremiah and Ezekiel. Lamentations also deals with realities which we rather wish were not discussed - consequently the book is little studied. However, although there much here to challenge faith, there is much that builds it up. Lamentations was not written in the first instance to serve as warning to others, or to even keep alive the present memory of past suffering, it is the present that dominates the thought of the book.

And in that present are overiding thoughts - 'has God left us?'; 'Have we blown our chance as God's covenant people?' 'Is there a way forward towards the restoration?'

A popular view today is that Lamentations is a dreary book with nothing to say to today's society. The reality is that it could not be more relevant, more authentic.

The Mentor Commentary is an exegetical commentary, with authors who hold a high view of Scripture. This means it takes a verse-by-verse approach to examining and explaining each text that comes from the ancient languages. Greek and Hebrew words are discussed, but no language training is necessary. What you get is refreshing new insight into each verse. In Wordsearch, these volumes contain tons of Scripture cross-references that are all hyperlinks. By simply hovering your cursor over each link, you can quickly read each reference in its entirety.

About the Author:
John L. Mackay was the Principal of the Free Church College, Edinburgh where he taught Old Testament from 1983 until his retirement in 2013. He is a highly-respected Old Testament scholar and has authored several well-received commentaries on a range of Biblical books.