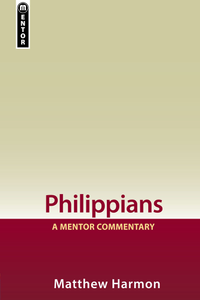 A Mentor Commentary: Philippians
Product Details
Christians throughout the centuries have loved Paul's letter to the Philippians for its call to rejoice in the gospel of Jesus Christ regardless of life's circumstances. But our familiarity with the letter can cause us to neglect or overlook Paul's message to the Philippians. Dr Matthew Harmon in this uplifting and inspiring work brings context and application to this wonderful book.

Matthew Harmon's excellent commentary on Philippians secured The Gospel Coalition Book of the Year 2015 (Bible and Theology Category).

The Mentor Commentary is an exegetical commentary, with authors who hold a high view of Scripture. This means it takes a verse-by-verse approach to examining and explaining each text that comes from the ancient languages. Greek and Hebrew words are discussed, but no language training is necessary. What you get is refreshing new insight into each verse. In Wordsearch, these volumes contain tons of Scripture cross-references that are all hyperlinks. By simply hovering your cursor over each link, you can quickly read each reference in its entirety.

About the Author:
Dr. Matthew Harmon serves as Professor of New Testament Studies at Grace College and Theological Seminary in Winona Lake, Indiana. He also serves on the preaching team of Christ's Covenant Church.