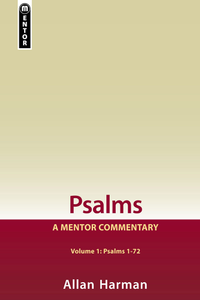 A Mentor Commentary: Psalms, Volume 1
Chapters 1-72
Product Details
Psalms 1 to 72. Psalms contain the praises of the people. This is the people of Israel's creed. But more than that, they display historical accounts which demonstrate how the people are to put their trust in God. They display the character of God who is majestic, compassionate and our Creator God.

The Mentor Commentary is an exegetical commentary, with authors who hold a high view of Scripture. This means it takes a verse-by-verse approach to examining and explaining each text that comes from the ancient languages. Greek and Hebrew words are discussed, but no language training is necessary. What you get is refreshing new insight into each verse. In Wordsearch, these volumes contain tons of Scripture cross-references that are all hyperlinks. By simply hovering your cursor over each link, you can quickly read each reference in its entirety.

About the Author:
Allan Harman has had a life-time interest in exposition of the biblical text. He is Research Professor at the Presbyterian Theological College in Melbourne, Australia. He has lectured and preached in many countries and served as the senior editor of the Reformed Theological Review, Australia's oldest theological journal until he retired at the end of 2013.