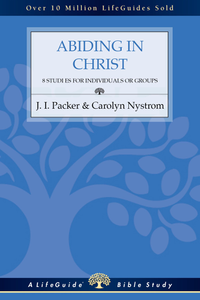 LifeGuide - Abiding in Christ
8 Studies for Individuals or Groups
Product Details
"As the Father has loved me, so have I loved you. Abide in my love." John 15:9
Before Jesus left this world he gave specific encouragement and instructions to his disciples on what to expect and how to live after he had gone. These words still apply to his disciples today.
In
Abiding in Christ
, trusted guides J. I. Packer and Carolyn Nystrom lead you through a study of Jesus' farewell to his disciples in John 14-17 to help you discover what it means to abide in Christ during the time between Christ's departure and his second coming.
This
LifeGuide Bible Study
in IVP Connect's revised format features questions for starting group discussions and for meeting God in personal reflection, as well as a "Now or Later" section following each session to help you act on what you learn.
About the Authors:
J. I. Packer is regarded as one of the most influential evangelicals in North America. He is Board of Governors' Professor of Theology at Regent College in Vancouver, British Columbia, and his writings include books such as
Knowing God
,
A Quest for Godliness
,
Growing in Christ
(Crossway) and
Rediscovering Holiness
. He has preached and lectured widely in Great Britain and North America and served as general editor of the English Standard Version of the Bible published in 2001, and theological editor of the Study Bible version. In 2014, Packer was named Author of the Year by the Association of Logos Bookstores. He is a frequent contributor to and an executive editor of
Christianity Today
and has written numerous articles published in journals such as
Churchman, SouthWestern Journal, Reformation & Revival Journal
and
Touchstone.
He received a BA, MA and PhD from Oxford University.
Carolyn Nystrom (MA, Wheaton College) has written more than eighty books, Bible study guides, and children's titles. She coauthored Praying with theologian J. I. Packer and Is the Reformation Over with scholar Mark Noll. She is also the author of the LifeGuide Bible Studies 1& 2 Peter and Jude, Money and Work, Friendship, Listening to God and more.
In addition to actively serving in her church, she has been a foster parent, an elementary schoolteacher, the stated clerk of her EPC presbytery, and a book editor. Carolyn lives in northern Illinois with her husband, and they have four grown children.