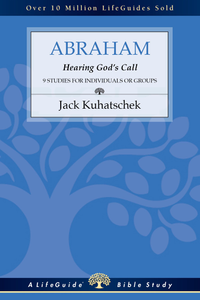 LifeGuide - Abraham: Hearing God's Call
9 Studies for Individuals or Groups
Product Details
It sounded crazy.

God had promised Abraham, an old man with no children, that his descendants would be as numerous as the stars. Yet Abraham chose to believe God, embarking on a transforming, lifelong journey of faith and obedience. God has made promises to us as well.

As Jack Kuhatschek leads you through this study of Abraham's life, you'll learn to be a person who listens to, obeys and trusts the God who always keeps his promises.

This LifeGuide Bible Study in IVP Connect's revised format features questions for starting group discussions and for meeting God in personal reflection, as well as a "Now or Later" section following each session to help you act on what you learn.

About the Author:
Jack Kuhatschek was formerly executive vice president and publisher for Baker Publishing Group in Grand Rapids, Michigan. He is the author of many Bible study guides and the books Applying the Bible and The Superman Syndrome. He and his wife, Sandy, currently live in Deland, Florida.