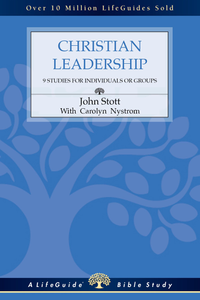 LifeGuide - Christian Leadership
9 Studies for Individuals or Groups
Product Details
The most influential leader in the early church was undoubtedly the apostle Paul. He never lost the vision of God's single new humanity--Jews and Gentiles together. And in his letters we watch him exercising his leadership skills among the early Christians.

This study guide by John Stott is based on his book Basic Christian Leadership and covers the first four chapters of 1 Corinthians, in which Paul responds to a complex church situation and to questions the Corinthians have addressed to him. He does so with clarity, wisdom, humility, love and gentleness--qualities that we can learn from as leaders today.

About the Author:
John R. W. Stott (1921–2011) has been known worldwide as a preacher, evangelist, and communicator of Scripture. For many years he served as rector of All Souls Church in London, where he carried out an effective urban pastoral ministry. A leader among evangelicals in Britain and the United States and around the world, Stott was a principal framer of the landmark Lausanne Covenant (1974). Whether in the West or in the Majority World, a hallmark of Stott's ministry has been expository preaching that addresses the hearts and minds of contemporary men and women. Stott was honored by Time magazine in 2005 as one of the "100 Most Influential People in the World" and was named in the Queen's New Years Honours list as Commander of the Order of the British Empire.