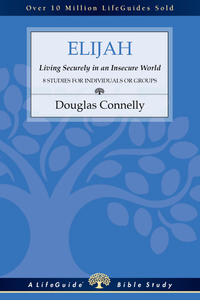 LifeGuide - Elijah: Living Securely in an Insecure World
8 Studies for Individuals or Groups
Product Details
Terrorism. Diseases. Hurricanes.

Every day the news reinforces what you want to forget--you live in an insecure world. Elijah's times were no safer. He faced famine, murder and corruption--with both courage and fear. In these eight studies on Elijah's life, Douglas Connelly helps you look beyond the insecurity of the world to our sovereign God who reigns forever.

This LifeGuide Bible Study in IVP's revised format features questions for starting group discussions and for meeting God in personal reflection, as well as a new "Now or Later" section following each session to help you act on what you learn.

About the Author:
Douglas Connelly (MDiv and MTh, Grace Theological Seminary) is senior pastor at Davison Missionary Church near Flint, Michigan, after serving twelve years as senior pastor at Parkside Community Church in Sterling Heights, Michigan. A writer and speaker, he has written seventeen LifeGuide Bible Studies as well as several books, including The Bible for Blockheads and Angels Around Us. He and his wife Karen have three adult children and six grandchildren.