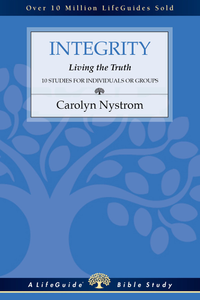 LifeGuide - Integrity: Living the Truth
10 Studies for Individuals or Groups
Product Details
Is truth an outdated concept?
Today it is often considered rude to speak of
right
and
wrong
. In such a culture of relativism, we desperately need to be reminded of the biblical value of integrity. These Bible studies invite us to find contentment in who are and how we follow God as we grow to be people of real integrity.
About the Author:
Carolyn Nystrom (MA, Wheaton College) has written more than eighty books, Bible study guides, and children's titles. She coauthored
Praying
with theologian J. I. Packer and
Is the Reformation Over
with scholar Mark Noll. She is also the author of the LifeGuide Bible Studies
1& 2 Peter and Jude
,
Money and Work
,
Friendship
,
Listening to God
and more.
In addition to actively serving in her church, she has been a foster parent, an elementary schoolteacher, the stated clerk of her EPC presbytery, and a book editor. Carolyn lives in northern Illinois with her husband, and they have four grown children.