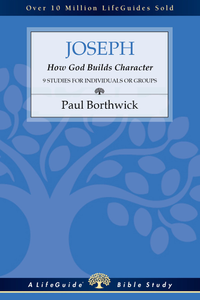 LifeGuide - Joseph: How God Builds Character
9 Studies for Individuals or Groups
Product Details
Joseph faced hard times--more than once.
He was sold into slavery by his brothers.
He spent years imprisoned because of a false accusation.
And yet Joseph was able to live in forgiveness and hope, and God did great things in his life every step of the way. Paul Borthwick invites you to explore Joseph's story as a way toward discovering how God's dreams might be fulfilled in and through you.
This
LifeGuide Bible Study
features questions for starting group discussions and for meeting God in personal reflection, together with leader's notes and a "Now or Later" section in each study.
About the Author:
Paul Borthwick (DMin, Gordon-Conwell Theological Seminary) is senior consultant for Development Associates International and teaches global Christianity at Gordon College in Wenham, Massachusetts. Through his speaking, writing and resource ministry, Borthwick works to mobilize others to participate in world missions.
Borthwick is an active speaker and teacher, having taught courses at Gordon College, Africa International University (Nairobi), Alliance Theological Seminary (Manila) and Lanka Bible College (Sri Lanka), plus a guest faculty position at Gordon-Conwell Theological Seminary. Previously he served for more than twenty years on the staff of Grace Chapel in Lexington, Massachusetts, first as youth pastor and then as minister of missions.
Borthwick is the author of Western Christians in Global Missions, How to Be a World-Class Christian, Six Dangerous Questions to Transform Your View of the World, A Mind for Missions, and other books and Bible studies. He and his wife, Christie, have been married since 1979 and they live in Lexington, Massachusetts, when not traveling internationally.