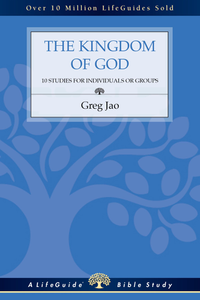 LifeGuide - The Kingdom of God
10 Studies for Individuals or Groups
Product Details
Jesus speaks often of "the kingdom of God."

What is it?

Where is it?

When is it?

Why is it so important?

Understanding and participating in God's kingdom on earth is central to the Christian life. In this study guide, Gregory Jao leads you through ten Bible studies that explore God's kindgom—transforming your picture of God, Christianity and your role in the world.

This LifeGuide Bible Study features questions for starting group discussions and for meeting God in personal reflection, together with leader's notes and a "Now or Later" section in each study.

About the Author:
Greg Jao (JD, Northwestern University Law School) is a vice president and the director of campus engagement for InterVarsity Christian Fellowship/USA. He is the author of Your Mind's Mission, the LifeGuide Bible study The Kingdom of God, and he is a contributor to Following Jesus Without Dishonoring Your Parents, a book on Asian American discipleship.