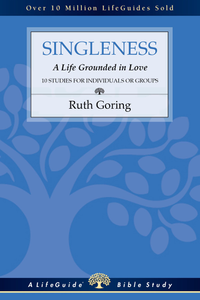 LifeGuide - Singleness: A Life Grounded in Love
10 Studies for Individuals or Groups
Product Details
Is being single a great adventure?

Or is being single lonely and frustrating?

What is God's "word" for your life in singleness?

In ten studies Ruth Goring leads you to explore these questions. You will learn to listen deeply to God, identify the gifts your life offers, cope effectively with temptation, make space for relationships, and grow into a sense of belonging.

God is calling you today to a life of joy, peace and love. Being single doesn't mean waiting to answer that call.

This LifeGuide Bible Study in IVP's revised format features questions for starting group discussions and for meeting God in personal reflection, as well as a new "Now or Later" section following each session to help you act on what you learn.

About the Author:
Ruth Goring grew up in a large, lively missionary family in Colombia, and in recent years she has provided accompaniment and advocacy to human rights defenders in that country. A former longtime editor at InterVarsity Press, she currently edits books at the University of Chicago Press and teaches in the Graham School's editing certificate program. Her IVP books include Date Rape, Environmental Stewardship, Meeting God in Quiet, Meeting God in Relationships,and Singleness. She has also published two books of poetry, Soap Is Political (Glass Lyre) and Yellow Doors (WordFarm), and a children's picture book in English and Spanish, Adriana's Angels / Los ángeles de Adriana (Sparkhouse Family).