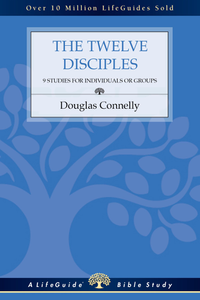 LifeGuide - The Twelve Disciples
Product Details
Jesus had about three years to mold a dozen fearful, faithless men into the pillars of a worldwide movement.

Despite this brief window, time in Jesus' presence had a transforming effect on each of them, and they would be changed by Jesus' power. This study of Jesus' first followers will transform you too.

About the Author:
Douglas Connelly (MDiv and MTh, Grace Theological Seminary) is senior pastor at Davison Missionary Church near Flint, Michigan, after serving twelve years as senior pastor at Parkside Community Church in Sterling Heights, Michigan. A writer and speaker, he has written seventeen LifeGuide Bible Studies as well as several books, including The Bible for Blockheads and Angels Around Us. He and his wife Karen have three adult children and six grandchildren.