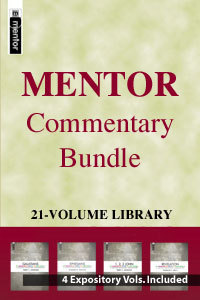 Mentor Commentary Bundle
21 Volumes
Highlights
Includes 17 Volumes of the Mentor Commentary Series and 4 volumes of the Mentor Expository Commentary Series
Product Details
The Mentor Commentary was written and designed for those who "mentor" others in the Christian faith. These commentaries (currently 21 volumes) are ideal for anyone who preaches, teaches, or ministers to others. This Mentor Commentary Bundle combines 2 sets in the Mentor series. Included are 17 volumes of the Mentor Commentary, plus 4 bonus volumes of the Mentor Expository Commentary.
The 17-Volume Mentor Commentary - It's Exegetical
The Mentor Commentary is an exegetical commentary with authors who hold a high view of Scripture. This means it takes a verse-by-verse approach to examining and explaining each text that comes from the ancient languages. Greek and Hebrew words are discussed, but no language training is necessary. What you get is refreshing new insight into each verse. In Wordsearch, these volumes contain tons of Scripture cross-references that are all hyperlinks.By simply hovering your cursor over each link, you can quickly read each reference in its entirety.
4 Bonus Volumes - Mentor Expository Commentary - It's Expository
The publishers of this series are currently working on a companion set, the Mentor Expository Commentary. Everything in this commentary has the preacher and teacher in mind. It is accurate, inspiring, and easy to read and apply. This series also has a Christ-centered approach. Each commentator makes a conscious effort to highlight the central message of Jesus Christ in each book.
Click on the "Sample" button above to read a sample.
Products Included In This Bundle