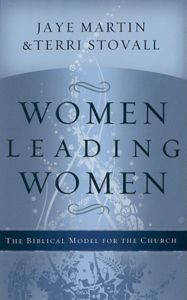 Women Leading Women
The Biblical Model for the Church
Product Details
Please note: This is an app.wordsearchbible.com only title.
Based on the precept that a biblical paradigm for women's leadership must occur under the authority of the local church, Women Leading Women fills the void of research-based textbooks that address academic requirements for the core women's leadership course curriculum and guide pastors n how women can help fulfill the church's purpose.
Women will be encouraged to lead and train other women, to engage the culture to reach women for Christ, to involve women in ministry, and much more. Anticipated for primary use in colleges and seminaries, this book is designed for a fifteen-week semester and will include a link to a Web site where teaching outlines and PowerPoint notes for each chapter are provided.

About the Authors:

Jaye Martin, Ed.D., is the creator of HeartCall Women's Evangelism and the director of women's programs at Southern Baptist Theological Seminary in Louisville, Kentucky. She also coauthored Women Leading Women: The Biblical Model for the Church.

Terri Stovall, Ph.D., is Dean of Women's Programs and Associate Professor of Women's Ministries at Southwestern Baptist Theological Seminary.