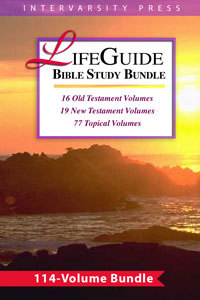 LifeGuide Bible Studies Bundle
Old and New Testament + Topical Study Guides
Highlights
Over 5 million LifeGuides in print - one of the most popular Bible study series ever!
Inductive study approach - the type of in-depth study you expect from InterVarsity Press
Leader's notes included- everything you need to lead a small group
Approach questions - help to get you thinking and inspire group discussion
Application questions - encourage you and your group to act on what you have learned
Product Details
Since 1985, LifeGuide Bible Studies have provided solid biblical content and raised thought-provoking issues—making for a one-of-a-kind Bible study experience for individuals and groups. This bundle includes 70 Old and New Testament books, character studies and topical studies.
About LifeGuide Topical Studies
This popular line of topical Bible study guides from InterVarsity Press provides solid Biblical content and raises thought-provoking issues for individual or group study. With 33 studies and over 375 individual lessons, this package provides what you need for years of deep and meaningful Bible study experiences.
About LifeGuide Old and New Testament
Includes studies on the OT Books of: Genesis, Exodus, Joshua, Judges, Nehemiah, Esther, Job, Psalms, Proverbs, Ecclesiastes, Isaiah, Jeremiah, Daniel, Hosea, Joel, Amos, Jonah.
Includes studies on the NT Books of: Matthew, Mark, Luke, John, Acts, Romans, 1 & 2 Corinthians, Galatians, Ephesians, Philippians, Colossians, 1 & 2 Thessalonians, 1 & 2 Timothy, Titus, Philemon, Hebrews, James, 1 & 2 Peter, the Epistles of John, Jude, Revelation.
Read an excerpt of a topical study on justice.
Products Included In This Bundle