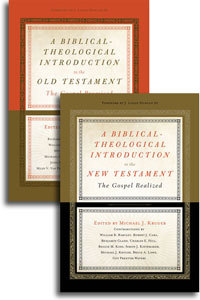 Biblical-Theological Introduction to the Old and New Testament
Product Details
A Biblical-Theological Introduction to the Old and New Testament (BTION) is an excellent work to have open alongside your Bible and commentary. You'll find it to be extremely helpful. This new resource was published for the benefit of preachers, teachers, and serious students of God's Word. It was carefully researched and authored by the professors of the Reformed Theological Seminary (RTS).
The authors of this work tell us there are several unique features and aspirations of these two volumes:
First, they are aimed at pastors and interested Christian readers, rather than fellow scholars. "We at RTS value and produce resources intended for a scholarly audience, but the aim of these volumes is churchly edification, hence they are designed for accessibility."
Second, they are written by scholars of biblical studies who are unafraid of and indeed very much appreciative of dogmatics. "In many seminaries, even evangelical seminaries, there exists an unhealthy relationship between biblical theology and systematic theology, but at RTS we value both and want our students to understand their necessary and complementary value. To understand the Bible, and the Christian faith, one needs both the insights of a redemptive-historical approach and those of topical-doctrinal study."
Third, these volumes unashamedly come from the standpoint of biblical inerrancy and Reformed theology. A high view of Scripture and a warm embrace of confessional Reformed theology are hallmarks of RTS, and these ideals shine through these books.
Fourth, these introductions are designed to be pastoral and helpful. Preachers, ministry leaders, Bible teachers, students, and others engaged in Christian discipleship are in view. The authors want to edify you and help you edify others.
Much More Than an Introduction to Bible Books
One reason the BTION is such a great companion to commentaries and other study tools is the format developed for each book of the Bible. Each book begins with a thorough Introduction, followed by detailed discussions of Background Issues, Structure & Outline, Message & Theology, and for Old Testament books, Approaching the New Testament. For example, in the book of Genesis, here is a small sample of what you will find:
Introduction - Here, we are introduced to the first Hebrew word in the Bible, appropriately translated "beginning." Here we consider the universe, time, space, and a look towards the study of last things (eschatology). Plus much more.
Background Issues - Here in Genesis, we consider authorship of the book, a review of the JEDP theory, literary analysis, and more.
Structure & Outline - Here, we look at the literary and theological structure of Genesis. This includes such conventions in Hebrew writing as structure, wordplay, imagery, sound, syntax, and many other devices that appear in the final form of the text.
Message & Theology - Here, we learn that God makes himself known through the works of his creative will. God not only exists but also creates. We are given helpful tables that outline the creation, the fall, and redemption. We are given detailed understanding of the history of the Patriarchal Period described in the last 39 chapters of Genesis.
Approaching the New Testament - This section shows us how the book of Genesis lays the foundation for a proper understanding of all Scripture. The authors lead us forward with many cross-references to passages in the New Testament, all which are handy hyperlinks in Wordsearch.
Click on the Sample button to read a sample.
Endorsements
Seminary-level New Testament introductions are plentiful. But this one provides what others do not: a consistent hermeneutical orientation as articulated by a top-tier roster of nine different scholars associated with Reformed Theological Seminary throughout its history. In addition to chapters covering all the New Testament books, valuable appendices treat canon, text, the synoptic problem, and more. Addressing both spiritual and academic issues with a view to pastoral equipping and biblical exposition, this wide-ranging compendium will benefit readers in both classroom and personal settings.
With the right mix of academic integrity and purposeful accessibility, this New Testament introduction will serve time-crunched pastors, ministry-minded students, and church members looking to better understand their Bibles. What makes this new volume unique is the emphasis on examining the theological themes in each book of the New Testament, rather than focusing on arcane debates prompted by liberal scholarship. The result is an insightful and impressive resource, one I will use in my own studies and often recommend to others.
For expository preachers and teachers of the Bible, this is truly a gold mine. Present and past members of the Reformed Theological Seminary faculty have produced a volume that is long overdue. Sound biblical-theological treatments of each book of the Old Testament, linked with good historical and literary comments, all conclude by pointing to the fulfillment of the texts in the person and work of Jesus. With this volume, no preacher should ever feel that preaching Christ from the Old Testament is too hard or too speculative.
For many Christians, the Old Testament is like a thousand pieces of a jigsaw puzzle. Where do you start? It helps to look at the box top and see how it all fits together. That's what these superb teachers of the church do in this insightful book.
Products Included In This Bundle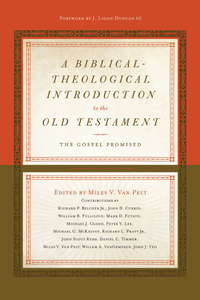 A Biblical-Theological Introduction to the Old Testament
The Gospel Promised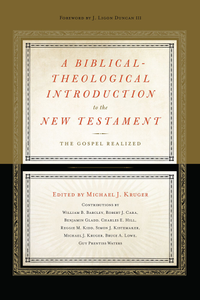 A Biblical-Theological Introduction to the New Testament
The Gospel Realized