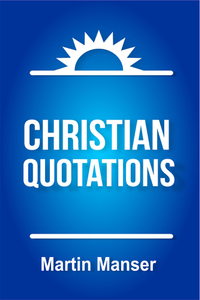 Product Details
This absorbing anthology comprises over 6,000 quotations, arranged under nearly 500 topics and subtopics. The topics cover not only different facets of Christian faith and teaching, such as gospel, grace, kingdom of God, miracles, and prayer, but also aspects of life, such as comfort, doubt, families, fellowship, guidance, hope, loss, and peace. Quotations are drawn from famous and lesser-known Christians of every major tradition throughout the ages and throughout the world, as well as from the Bible itself.
With its simple alphabetical arrangement and its thorough cross-referencing system, Christian Quotations makes it easy to find the right expression for a particular need or occasion. Within each topic, quotations are given in the following order: quotations from the Bible (in Bible-book order), and then quotations arranged by alphabetical order of surname. It will be especially useful for preachers or teachers looking for ways to enliven and enhance their presentations and will provide an endless source of insight and encouragement for individuals on their spiritual journey.
About the Author:
Martin H. Manser has been a reference book editor since 1980. He received his BA in linguistics after studying at the Universities of York, England and Regensburg, Germany, and earned his Master's degree for research into the influence of English on modern German. After he became interested in lexicography, he started to work as a reference editor. He has worked on over 150 reference books, including the Guinness Book of Words, the Macmillan Student's Dictionary, the Collins Dictionary for Writers and Editors, NIV Thematic Study Bible, NRSV Cross-Reference Bible, and many others.
Born in Kent in 1952, Manser now resides in Aylesbury, England with his wife Yusandra, son Ben and daughter Hannah. He is a member of his local Baptist church.