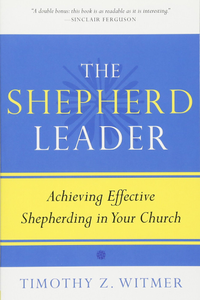 The Shepherd Leader
Achieving Effective Shepherding in Your Church
Product Details
Leaders in the church are called to be shepherds, not a board of directors. This requires involvement in a personal shepherding ministry among the people.The Shepherd Leader unpacks the four primary ministries of shepherds—knowing, feeding, leading, and protecting—on macro (churchwide) and micro (personal) levels, providing seven elements to be incorporated into an effective shepherding plan.

About the Author:
Timothy Z. Witmer is professor of practical theology at Westminster Theological Seminary, Philadelphia. He was made pastor emeritus at Crossroads Community Church, Upper Darby, Pennsylvania, after serving there for more than twenty-five years.
Endorsements
We plan to use The Shepherd Leader as a primary resource for all of our candidates, interns, elders, and pastors—our shepherds and shepherds-in-training.
Tim Witmer's book could not have come at a better time. So many are 'slipping into the darkness' and most of us don't know what to do about it. Now we do! Churches all over America will 'rise up an call him blessed.'
For leaders who long to be faithful in the field, this book offers a wealth of theological and practical insight that will strengthen your hand.
Examines issues the church desperately needs to consider. We so deeply desire to organize and lead our churches by biblical principles, but can be confused or distracted by secular work or educational ones instead.