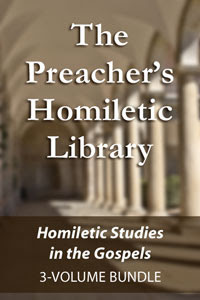 Preacher's Homiletic Library
3 Volumes
Product Details
The Preacher's Homiletic Library: Homiletic Studies in the Gospels is a 3-volume set covering all 4 gospels. Edited by Harald F. J. Ellingsen, it has been out of print for years and is difficult to find.
What makes this resource so useful for preaching and teaching is that the editors have combed through hundreds of years of preaching. They then applied the best material they found to every passage of Matthew, Mark, Luke, and John. Over 300 different Bible expositors over several centuries are represented.
With the purpose of providing Bible studies with some of the best homiletic articles, the editors hope to lead you into further explorations of the Word of God. They hope to furnish preachers and teachers with "rough timber" to shape and build your own lessons and sermons and inspire you to discover additional material from the sources to support you in your teaching.
You'll find preachable and teachable excepts from names like Moody, Finney, Torrey, Lenski, Spurgeon, Whitefield, Morgan, Summerfield, Simpson, Murray, Ryle, and many others.
For example, here is a sample from Matthew 5:38-42
"Turn retaliation into repentance. The Master says, if there must be a second blow, let it fall on your own cheek. Instead of inflicting it, suffer it, in the hope that your uncomplaining patience under his brutality may effect his repentance. -F.B. Meyer (A very small sample from Meyer)
Certainly, in taking revenge a man is but even with his enemy; but in passing over it he is superior, for it is a prince's part to pardon." — Bacon.
Click on View Sample above to see another sample.
Products Included In This Bundle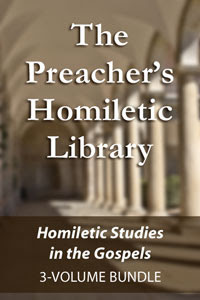 Preacher's Homiletic Library: Homiletic Studies in the Gospels: Matthew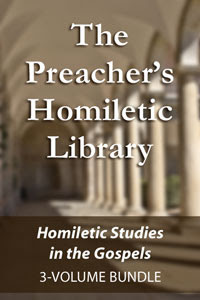 Preacher's Homiletic Library: Homiletic Studies in the Gospels: Mark - Luke
Preacher's Homiletic Library: Homiletic Studies in the Gospels: John