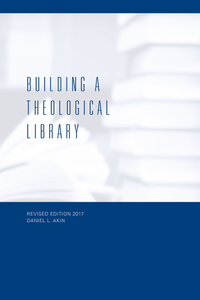 Building a Theological Library, Revised
Product Details
Building a Theological Library
(revised in 2013) guides you through the various categories that any good library needs. It also includes a selection of some recent books that would be good for pastors and students in theology to consult.
Some of the categories include:
Biblical Languages
Theology
Church History and Historical Theology
Ethics
Missions
Evangelism
Preaching
Counseling
Marriage and Home
Pastoral Ministry
Christian Education and Leadership
Worship
About the Author:
Danny Akin is president of Southeastern Baptist Theological Seminary in Wake Forest, North Carolina. He holds a Ph.D. in Humanities from the University of Texas at Arlington and has authored or edited many books and Bible commentaries including
Ten Who Changed the World
and the
Christ-Centered Exposition Commentary
volumes on Mark and 1, 2, 3 John.