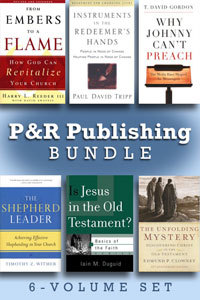 P&R Publishing Bundle
6 Volumes
Product Details
The P&R Publishing Bundle is from a respected publisher of Christian books founded in 1930. These fresh volumes address our current culture as we minister, lead, preach, and teach.
The P&R Publishing Bundle Includes:
The Shepherd Leader
Leaders in the church are called to be shepherds, not a board of directors. This requires involvement in a personal shepherding ministry among the people.The Shepherd Leader unpacks the four primary ministries of shepherds—knowing, feeding, leading, and protecting—on macro (churchwide) and micro (personal) levels, providing seven elements to be incorporated into an effective shepherding plan.
From Embers to a Flame
Whether your church is healthy or struggling, the biblical principles in this book point the way to greater spiritual vitality. A pastor, seminary teacher, and conference speaker, Harry Reeder has long specialized in church revitalization. He deftly alerts us to potential problems in our churches, helps us to recognize our weaknesses and opportunities, and guides us in applying biblically based strategies for rekindling the flames of godly growth.

With upwards of 80 percent of American churches either in decline or at a plateau, many of our churches are ripe for renewal. Even thriving congregations can benefit from the insights, cautions, and recommendations packed into this concise volume.

Harry Reeder has for decades studied, taught on, and participated in church revitalization. One church in which he was pastor grew from 38 members to over 3000 in attendance. But the priorities and procedures that lead a church "from embers to a flame" are not about numbers. They are about the wise application of biblical principles that lead to congregational health and genuine growth.

God renews churches not through warmed-over secular methodologies but through time-honored truths that build on the past and prepare us for the future. Reeder's insights concerning prayer, the Word, godly leadership, vision, outreach, and more, serve both as corrective measures for declining churches and as preventive measures to keep healthy congregations moving forward.
The Unfolding Mystery
New edition with study and application questions by Eowyn Jones Stoddard, the author's granddaughter.

Have you ever wondered what Christ said to his disciples on the Emmaus road—making their hearts burn? Follow Ed Clowney through the Old Testament as he shows how all the Scriptures point to Christ.

As you explore Old Testament characters and events, you'll be inspired by the many specific insights they give us into Jesus' character and lordship.
Why Johnny Can't Preach
"What was that sermon about?"

T. David Gordon has identified a problem, one that affects us all and needs fixing. Our preaching is just not communicating properly anymore. Fortunately, Gordon refuses to stand by and watch—and we should too. In this short book, he provides a concise, in-depth look at the causes of this failure and also shows us how to make things better.
Instruments In the Redeemer's Hands
We might be relieved if God placed our sanctification only in the hands of trained professionals, but that is not his plan. Instead, through the ministry of every part of the body, the whole church will mature in Christ.

Paul David Tripp helps us discover where change is needed in our own lives and the lives of others. Following the example of Jesus, Tripp reveals how to get to know people, and how to lovingly speak truth to them.
Is Jesus In the Old Testament?
Many Christians find the Old Testament to be a difficult book and ultimately ignore large parts of it—often because they simply are not sure what to do with it.

Yet Iain Duguid maintains that the Old Testament is for Christians too. What is more, Christ is present throughout the Old Testament—in fact, when rightly interpreted, the whole book is about him. Duguid explores what it means to rightly see Christ in the Old Testament and looks at some specific ways the Old Testament prepares us to see and understand Christ's ministry in the gospels.

Basics of the Faith booklets introduce readers to basic Reformed doctrine and practice. On issues of church government and practice they reflect that framework—otherwise they are suitable for all church situations.
Take all 6 volumes in this P&R Publishing Bundle and add them to your Wordsearch digital library today.
Products Included In This Bundle