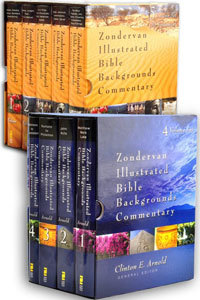 Zondervan Illustrated Bible Backgrounds Commentary
Old and New Testament
Product Details
The Zondervan Illustrated Bible Backgrounds Commentary walks you verse-by-verse through all the books of the Old and New Testament, taking you on a tour with full-color photos and graphics. Using these volumes will help you understand the backgrounds and circumstances of the Bible and will lead you to deeper studies.
In the New Testament volumes, the teachings of Jesus will come to life. Learn the nuances of the ancient context to discover the close interplay between God's kingdom and the church. You'll become aware of the Bible's relevance for your life. For example, you will discover how the springs at Hierapolis help us understand why Jesus described the church at Laodicea as "lukewarm," the background on divorces in Judaism, how the Jewish dietary laws are a metaphor for God's acceptance of Gentiles, and much more.
The New Testament volumes feature:
Commentary based on relevant papyri, inscriptions, archaeological discoveries, and studies of Judaism, Roman culture,
Hellenism, and other features of the world of the New Testament
Hundreds of full-color photographs, color illustrations, and line drawings
Copious maps, charts, and timelines
Sidebar articles and insights
"Reflections" on the Bible's relevance for 21st-century living
The Old Testament volumes bring to light new insights on what many consider insurmountable cultural issues found in the books. Without imposing our own culture on the text, this series provides knowledge of the ancient culture for you to understand without distortion.
The Old Testament volumes feature:
Over 2000 photographs, drawings, maps, diagrams, and charts provide a visual feast that breathes fresh life into the text
Passage-by-passage commentary presents archaeological findings, historical explanations, geographic insights, notes on manners and customs, and more
Analysis into the literature of the ancient Near East will open your eyes to new depths of understanding both familiar and unfamiliar passages
An international team of 30 specialists, all top scholars in background studies as writers.
Written in a clear, engaging style, this beautiful set provides a new and accessible approach that more technical expository and exegetical commentaries don't offer.
Check out a sample by clicking on the yellow Sample button underneath the book cover image.
About the Editors:
Clinton E. Arnold (PhD, University of Aberdeen) is Dean and Professor of New Testament at Talbot School of Theology in LaMirada, California.
John H. Walton (PhD, Hebrew Union College) is professor of Old Testament at Wheaton College Graduate School. He is the author or coauthor of several books, including Chronological and Background Charts of the Old Testament; Ancient Israelite Literature in Its Cultural Context; Covenant: God's Purpose, God's Plan; The IVP Bible Background Commentary: Old Testament; and A Survey of the Old Testament.
Products Included In This Bundle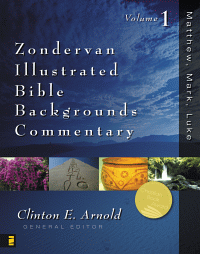 Zondervan Illustrated Bible Backgrounds Commentary New Testament: Volume 1
Matthew, Mark, Luke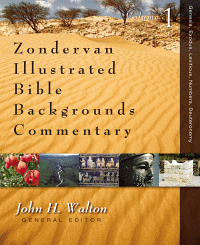 Zondervan Illustrated Bible Backgrounds Commentary Old Testament: Volume 1
Genesis, Exodus, Leviticus, Numbers, Deuteronomy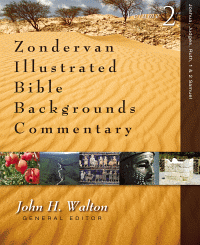 Zondervan Illustrated Bible Backgrounds Commentary Old Testament: Volume 2
Joshua, Judges, Ruth, 1 & 2 Samuel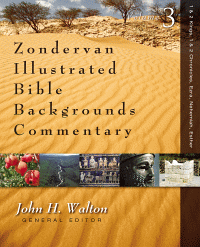 Zondervan Illustrated Bible Backgrounds Commentary Old Testament: Volume 4
Isaiah, Jeremiah, Lamentations, Ezekiel, Daniel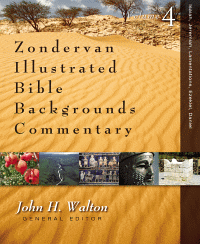 Zondervan Illustrated Bible Backgrounds Commentary Old Testament: Volume 3
1 & 2 Kings, 1 & 2 Chronicles, Ezra, Nehemiah, Esther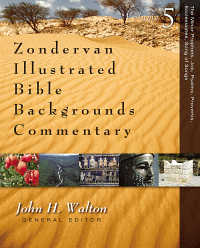 Zondervan Illustrated Bible Backgrounds Commentary Old Testament: Volume 5
The Minor Prophets, Psalms, Proverbs, Ecclesiastes, Song of Songs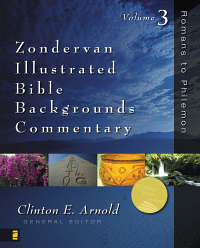 Zondervan Illustrated Bible Backgrounds Commentary New Testament: Volume 3
Romans to Philemon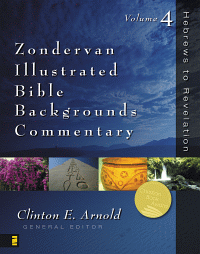 Zondervan Illustrated Bible Backgrounds Commentary New Testament: Volume 4
Hebrews to Revelation