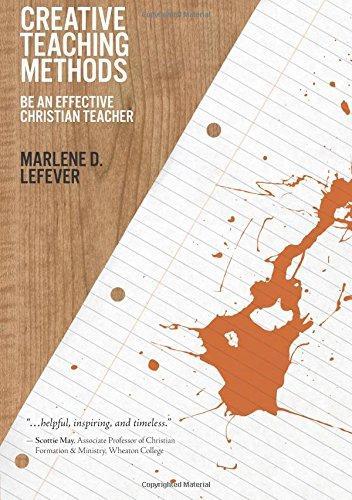 Creative Teaching Methods
Be An Effective Christian Teacher
This title works with the following Wordsearch products
Web
Product Details
Please note: This is an app.wordsearchbible.com only title.
Shake Up That Stagnant Classroom!
Christian education is so much more than a room full of quiet faces staring at a teacher, and LeFever's ideas will make "creative teaching" a reality. You'll partner with your students to help them grow in their understanding of God's Word with time-tested methods like:
Acting Up - Drama in the Classroom
Teaching Without Walls
Never Too Old for "Tell Me a Story"
And more!
Take the boredom out of teaching and start using your creativity today!
About the Author:
Marlene LeFever - author, educator, and Sunday school "cheerleader" - speaks to 20,000 Sunday school teachers a year. Her books include
Creative Teaching Methods
and
Learning Styles
. She and her husband Jack make their home in Colorado Springs.
Endorsements
Do you ever wonder why Jeffrey talks all of the time? Or why Toni can't sit still? Or why Alex loves work sheets? Or why Jordan is always trying something new? Each chapter is fun to read, stimulating, and immensely practical. This book is valuable to teachers, and for preachers, too.
It's about time. Creative Teaching Methods is not just another book on the theory of creativity (which we don't need). Rather, it is a book on the practice of creativity in the classroom (which we desperately need). This is a book you will use over and over again.
Marlene LeFever makes the principle of learning through creative participation come alive for Christian education. Creative methods are vividly and invitingly explored for their potential for deepening the spiritual life through new ways of hearing the Word of God and using heretofore untapped personal resources in responding to it. Unique in its assumption that in Christian education creativity is just as essential in work with youth and adults as it is in work with children.