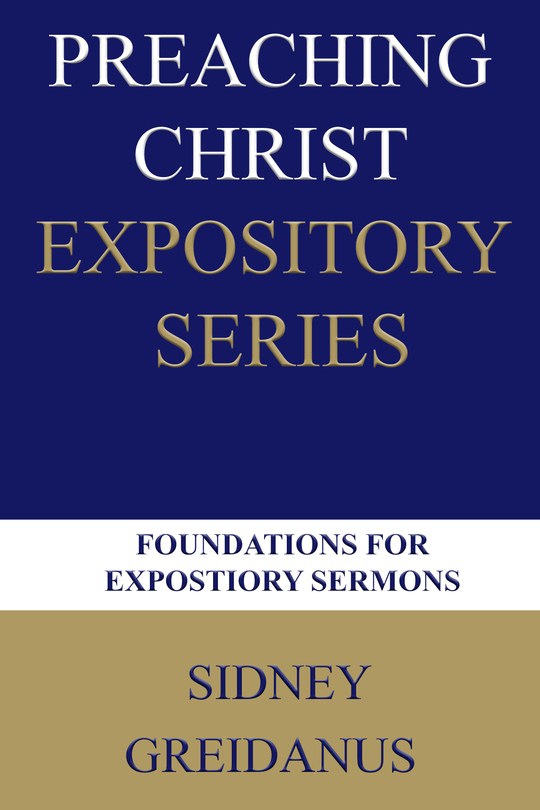 Preaching Christ Expository Series
6 Volumes
Product Details
The Preaching Christ Expository Series is a bundle focused on helping you preach and teach Christ from any book of the Bible. With this resource in your Wordsearch library, you'll find it easier to proclaim Christ from all of Scripture.
The author of this series, Dr. Sidney Greidanus, is a respected theologian and expert on the disciplines of preaching. For the past 25 years he has served as the professor of preaching at Calvin Theological Seminary in Grand Rapids, Michigan. Like many of us, Greidanus believes that the good news of Christ can be preached from any book of the Bible. Yet he found very few textbooks dedicated to this discipline. The result was this set, which takes a deliberate and methodical approach to preaching Christ, especially from books of the Old Testament.
When Griedanus examines a passage of Scripture, he invites us to consider it from many angles. Among others, he looks at Scripture from these perspectives:
Text and Context
Literary Features
The Plot Line
Theocentric Interpretation
Textual Theme and Goal
10 Ways to Preach Christ (Promise Fulfillment, Typology, Analogy, and others)
Sermon Theme and Goal
Sermon Exposition
And others
Greidanus examines the text and provides outlines, commentary, and fresh ideas that reach beyond the obvious. He always asks us to consider what the text saying, and often points out what the Israelites would have seen in the text. Here truths can be found that are easily overlooked. Seeing familiar OT passages through the eyes of the ancient Jews adds a new and deeper understanding to modern assumptions.
About the Author
Sidney Greidanus is professor emeritus of preaching at Calvin Theological Seminary, Grand Rapids, Michigan.
Endorsements
Preaching from the Old Testament is crucial for the church but often neglected. After all, it is difficult to know how the Old Testament relates to the gospel of Christ, which is the heart of the Christian faith. Many pastors struggle with the Old Testament, and seminaries often do an inadequate job preparing their students in this area. For those who need help, Sidney Greidanus is an excellent teacher as he exposits the book of Daniel and carefully guides us to proper preaching of its important message, showing us how it leads us to Jesus Christ.
This is a careful, clear, helpful volume, which can be useful to any preacher who wishes to preach 'the whole counsel of God,' joining Old and New Testaments. . . A good book.
One of those rare volumes that should be read by all preachers who take the task of interpretation and proclamation with great seriousness.
Sidney Greidanus has been one of the most gifted advocates of 'redemptive historical' preaching, and in this book he provides yet another important resource for bringing that perspective to bear on the life and mission of the church. In a time when there is much confusion about what it means to preach in fidelity to the Scriptures, we very much need the lessons that he offers us here.
Products Included In This Bundle