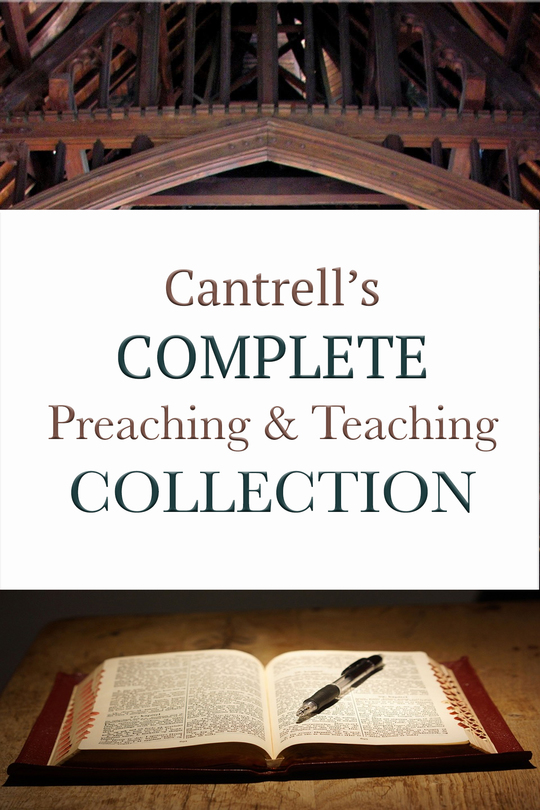 Cantrell's Complete Preaching & Teaching Collection
34 Volumes
Product Details
Donald Cantrell is a preaching and teaching machine. He has pastored for over 30 years and has assembled a tremendous collection of preaching and teaching helps. These helps are now available in Cantrell's Complete Preaching & Teaching Collection.
If you're like other Wordsearch users, you love to dig deep into God's Word. Using what you discover, you create sermons and Bible lessons. Because of your ministry, others are fed the truth, inspired, blessed, and drawn closer to God.
Discover Cantrell's Complete Preaching & Teaching Collection - 34 Volumes That Will Help You Preach & Teach
The first 6 volumes of this collection are Cantrell's Splendid Sermon Outlines, containing 300 detailed sermon outlines on a wide range of Scripture and topics.
Also in this bundle is 365 Sensational Sermon Snapshots. Cantrell provides you with a Scripture for each day of the year and an alliterated sermon outline from which you can develop a complete sermon or lesson.
Wordsearch Makes It Even More Powerful
You already know that when you combine works like these with your other tools in Wordsearch it makes your cross-referencing and searching faster and easier. Cantrell's thoughtful study of God's Word has been described by others as readable, preachable, and teachable.
About the Author
Donald L. Cantrell has been a preacher of the gospel since 1980. His goal in writing books is to be helpful to ministers who may need a simple thought to prompt them in developing a mighty message. His hope is to be practical, preachable, and accessible to the busy and pressured pastor.
In addition to preaching and writing, Donald has been active in personal sermon consulting and research, offering help with individual sermon development, subject research, Bible character studies, and sermon series. He has also helped various pastorates with the leading of revivals.
Donald resides in Georgia with Denise, his wife of 26 years, and Whitney, his daughter.
Products Included In This Bundle