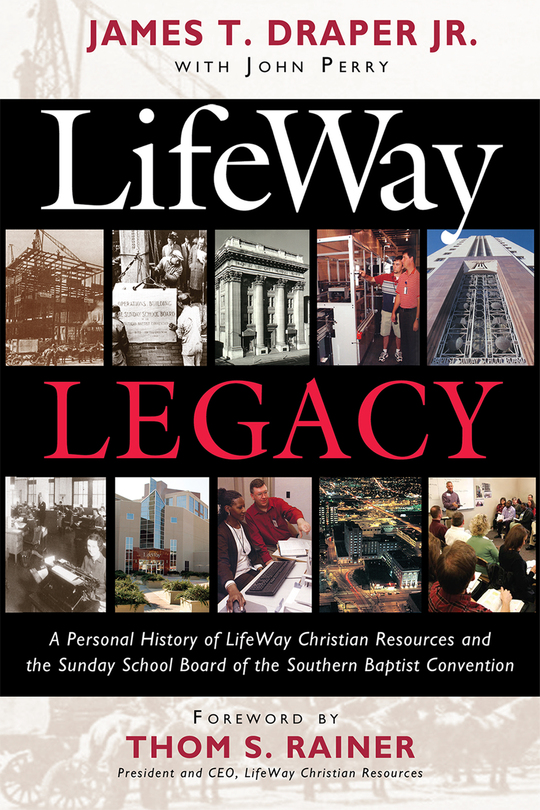 LifeWay Legacy
A Personal History of LifeWay Christian Resources and the Sunday School Board of the Southern Baptist Convention
Product Details
"As God works through us, we will help people and churches know Jesus Christ and seek His kingdom by providing biblical solutions that spiritually transform individuals and cultures."

This modern mission statement from LifeWay Christian Resources matches the same bold purpose of those who first opened the doors of the company back in 1891 when it was known as the Baptist Sunday School Board. A testament to unwavering spiritual integrity and focus, while the world has certainly changed, the goals of LifeWay have held strong for well over one hundred years. And by God's grace, they continue into the future.

LifeWay Legacy recounts the interesting history of one of the world's largest providers of Christian products and services, including Bibles, church literature and supplies, books, music, conference centers, and much more. Along the way, we also learn much about LifeWay' parent organization—the Southern Baptist Convention—and the cultural, economical, and political struggles and victories of our faith over the past century. Lovingly written by Jimmy Draper, a former president of both LifeWay Christian Resources and the Southern Baptist Convention, this book is a chronicle and keepsake for all who have been blessed by the godly outreach of these great ministry entities.

About the Authors:
James T. Draper, Jr. served as president of LifeWay Christian Resources from 1991 until 2006 and is also a former president of the Southern Baptist Convention. His previous books include Biblical Authority and Preaching with Passion. Dr. Draper and his wife, Carol Ann, now live in Colleyville, Texas.

John Perry has coauthored books with John MacArthur, Richard Land, Mike Huckabee, among others and written historical books about Charles Colson, the Scopes Monkey Trials, and more. He is a two-time Gold Medallion Award finalist and lives in Nashville, Tennessee.