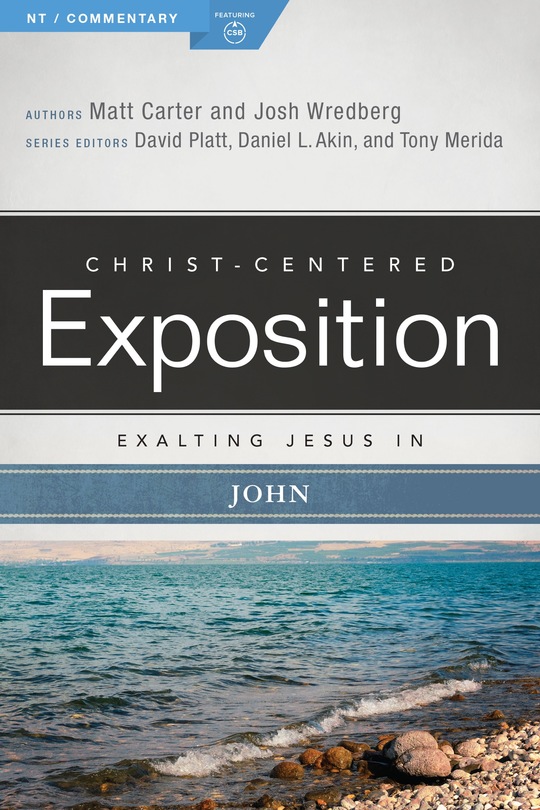 Christ-Centered Exposition: Exalting Jesus in John
Product Details
"This series affirms that the Bible is a Christ-centered book, containing a unified redemptive history of which Jesus is the hero. We purpose to exalt Jesus from every book of the Bible. In doing this, we are not commending wild allegory or fanciful typology. We must be constrained to the meaning intended by the divine Author Himself, the Holy Spirit of God. However, we also believe that the Bible has a Messianic focus, and the authors in this series will exalt Christ from all of their texts." - Series Editors

Exalting Jesus in John is part of the Christ-Centered Exposition Commentary series. Edited by David Platt, Daniel L. Akin, and Tony Merida, this new commentary series, projected to be 48 volumes, takes a Christ-centered approach to expositing each book of the Bible. Rather than a verse-by-verse approach, the authors have crafted chapters that explain and apply key passages in their assigned Bible books.

Readers will learn to see Christ in all aspects of Scripture, and they will be encouraged by the devotional nature of each exposition presented as sermons and divided into chapters that conclude with a "Reflect & Discuss" section, making this series ideal for small group study, personal devotion, and even sermon preparation. It's not academic but rather presents an easy reading, practical and friendly commentary.

About the Authors:
Matt Carter serves as the Pastor of Preaching at the Austin Stone Community Church in Austin, Texas, which has grown from a core team of 15 to over 7,000 attending each Sunday since the church began in 2002. Matt has co-authored multiple books including The Real Win, a book on biblical manhood co-authored by NFL quarterback Colt McCoy, and two group studies, Creation Unraveled and Creation Restored, which traced the gospel message through the book of Genesis. He holds an M.Div. from Southwestern Seminary and a D.Min. in Expositional Preaching from Southeastern Seminary. He and his wife Jennifer have been married for 20 years, and they have three children, John Daniel, Annie, and Samuel.

Josh Wredberg has served on the pastoral staff of churches in Michigan, Illinois, and North Carolina, and as teaching pastor at Redeemer Community Church in Fuquay-Varina, North Carolina. He is a graduate of Maranatha Baptist University and Shepherds Theological Seminary. Josh has also earned a doctorate in preaching from Southeastern Baptist Theological Seminary. He and his wife, Cari, have three boys, Jack, Max, and Caed.
Endorsements
The balance of biblical accuracy, clear outlines, captivating illustrations, and life-changing applications make this commentary a must-have addition to the library of every pastor and everyone else who wants to understand and apply the Gospel of John.
Matt and Joshua provide an excellent resource on John's Gospel. With a clear outline of content, a concise purpose for writing, and a faithful handling of the text as it points to Jesus, the authors give the reader a valuable resource for study and preaching. They herald a clear message to remind the reader, 'The gospel is the good news that you no longer have to wander about in the darkness and despair of sin, but you can enjoy the light of righteousness through Jesus Christ' (p. 27). I commend this commentary as it will prove beneficial for many, for years to come.
The Gospel of John has no shortage of commentaries, raising the obvious question: what sets this one apart from all the others? The unique contribution of Matt Carter's work is rooted in his personal profile. Carter is both a highly successful church planter and long-tenured pastor who has built and led a large church through text-driven preaching. A church holding forth the truth in the heart of one of the most socially liberal cities in the country. A church that has multiplied itself many times over through planting new churches in their own city and in some of the most difficult countries on the planet. As a trustworthy, twenty-first-century pastor-theologian, Carter has not only produced a commentary, but a sermon and bible study starter for preachers and teachers seeking to accurately interpret and prophetically apply the Word of God to this radically changing culture.
This commentary on John is incredibly practical. Written from a pastor's heart, it provides both deep theological insight and practical application. Both ministers of the gospel and people in the pew need this work!
As a pastor for more than twenty-one years, I appreciate a commentary that stands on solid scholarship while at the same time fitting comfortably in the pulpit. Any pastor, teacher, or small group leader will be able to open this book and find a Christ-centered resource at their fingertips which will enhance their preaching or teaching ministry. In fact, any believer reading this Christ-centered exposition will find themselves learning more about the Lord Jesus Christ and His place in Scripture. The Christ-Centered Exposition Commentary series seeks to exalt Jesus. This volume succeeds in meeting that goal!
As the church navigates an age of profound confusion and doubt, the Gospel of John serves as an immoveable anchor. This commentary is an invaluable tool for believers in understanding and applying God's Word to our lives as we combat the litany of competing worldviews that surround us. This work remains faithful to the timeless truth of Scripture while challenging contemporary issues in a thoughtful manner. Believers will be well-served by using this book to supplement their efforts to delight in God's Word and to live by faith in Jesus, the Savior of the world.
John said the purpose of his Gospel was 'so that you may believe that Jesus is the Messiah, the Son of God, and that by believing you may have life in his name' (20:31). This volume is a literary GPS in helping us arrive at that place. Carter and Wredberg wed exegetical integrity with sermonic beauty, and they combine historical accuracy with contemporary relevance, all to show us Jesus. Pastors, teachers, and all who love the Bible and its Christ will be helped greatly by this work.
Josh and Matt have given us a gospel-fueled treatment of John. You will discover, as I have, that this volume exposes areas you thought you had conquered. Worship your way through this exposition by these two Christ–Centered Ninjas.