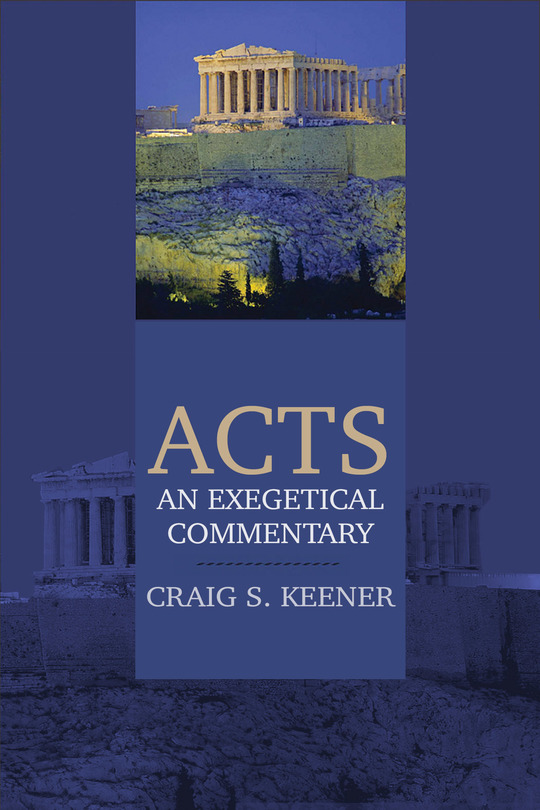 Acts: An Exegetical Commentary
4 Volumes
Highlights
Author Craig Keener is a highly-respected New Testament scholar known for his meticulous and comprehensive research.
Product Details
Praised as "one of the greatest living commentators on the New Testament," Craig Keener has written two massive commentary sets, both highly praised and hailed as two of the best commentaries available on the Bible books of John and Acts. Both sets are now available for your Wordsearch library at our special intro price for a limited time.
Acts: An Exegetical Commentary
Acts: An Exegetical Commentary may be the largest and most thoroughly documented commentary on the book of Acts available. The four volumes are over 4,400 pages and cite more than 45,000 extrabiblical ancient references. An invaluable, exhaustive resource, Keener's magnum opus will be the first commentary you'll want to turn to when studying Acts.
Useful not only for the study of Acts but also early Christianity, this work sets Acts in its first-century context. Keener's primary focus is on the social, historical, and rhetorical aspects of the text while examining how Acts compares with the events of history. He utilizes an unparalleled range of ancient sources and offers a wealth of fresh insights from his decades' worth of extensive research.
Invaluable Resources for Your Wordsearch Library
Keener's writing is clear and easy to follow, making this encyclopedic work useful for anyone who wants to learn more about Acts, from preaching through the books to personal Bible study.
Using these works in Wordsearch will not only save you shelf space, but will make your studies faster and easier. You can search this wealth of information for what you need by just creating a search. While studying, you can hover over the many linked Bible verses to read the verse in a pop-up window, or click on it to read the verse in context. You can also have multiple Bibles open alongside this commentary to have the full text available.
About the Author:
Craig S. Keener (PhD, Duke University) is F. M. and Ada Thompson Professor of Biblical Studies at Asbury Theological Seminary in Wilmore, Kentucky. He is the author of twenty-two books, including Miracles: The Credibility of the New Testament Accounts, the bestseller The IVP Bible Background Commentary: New Testament, The Historical Jesus of the Gospels, Gift and Giver, a four-volume commentary on Acts, and commentaries on Matthew, John, Romans, 1-2 Corinthians, and Revelation.
Endorsements
Acts has now taken a new step forward with the exhaustive (and exhausting) commentary by Craig S. Keener. . . . This will be the starting point for all Acts scholarship from now on!
To my knowledge, Keener's four-volume project (running well in excess of 2.5 million words) is by far the largest single-author work on Acts to date. . . . Keener's strong suit has always been his impressive acquaintance with the literary environment of the New Testament. He is able to provide copious citations of texts (especially 'pagan' texts) of the time, offering readers many opportunities to ponder possible relevance for appreciating a given passage in the NT. He is also remarkably thorough in citing other scholars. . . . This initial volume (running nearly 1,100 pages) comprises an extensive Introduction in which . . . Keener addresses at length all the issues currently in play about Acts. . . . The remainder of this volume . . . is a detailed analysis of Acts 1:1-2:47. In this material as well, Keener conducts a dialogue with a rich assortment of other scholars (in the footnotes), as well as providing exegetical comments on the text of Acts. . . . Anyone concerned with Acts is best advised to take account of this extensive study from a widely read and dedicated scholar.
By almost any measure, Craig Keener's commentary on Acts is a remarkable achievement. . . . He is thoroughly engaged with a wide range of critical studies of Acts and related writings. Keener also brings to the study of Acts a deep and extensive acquaintance with ancient Greco-Roman and Jewish literature, and the result is a rich, detailed commentary packed with abundant and useful information. . . . I am unable to agree with many of his convictions about Acts but am compelled to admire his well-conceived and well-documented arguments and interpretations.
Keener's finished commentary will dwarf other modern commentaries, if measured by the quantity of either ink spilled or of citations of Greco-Roman texts. Beyond such metrics, Keener's magnum opus is a rich resource that will serve Acts scholars for years to come. . . . A scholar with extensive knowledge of Jewish and Greco-Roman materials, Keener brings this expertise to his commentary, introducing scores of relevant citations to subsequent scholars of Acts. . . . This volume is the result of the careful, balanced work of a senior scholar. Any serious scholar will want to have this valuable commentary ready-to-hand.
The abundant harvest of references to documents . . . warms the hearts of readers like me. . . . Compendious Keener certainly is, but he is not ponderous, nor is he cloudy.
Those who have followed Keener's career have come to expect learned comment and extensive bibliography undergirding his research. This first installment in his proposed four-volume Acts commentary is no exception. . . . The detail of historical inquiry involved in this commentary is quite fantastic and stimulating. . . . His work is well grounded in the primary source investigations and secondary interaction that populate each page. . . . [Keener] importantly demonstrates in this commentary that . . . significant progress is made in grasping the meaning of a given scriptural text when the historical background is fully investigated. This is both the continued legacy that Keener's industrious work will prove to carve out and what will make Keener's contribution a sturdy response to such approaches of historical criticism. . . . Keener's method and the volume of information it furnishes breaks many molds. . . . It will certainly have a great impact on the historical and theological study of Acts and on the apologetic case for the historical events recorded in Acts, natural and supernatural alike. Great appreciation must be expressed to Professor Keener for what may well be his magnum opus!
Products Included In This Bundle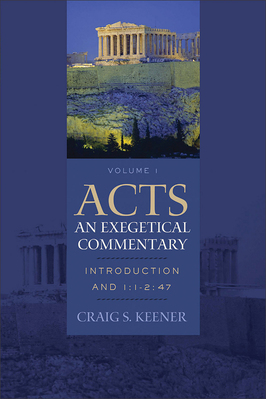 Acts: An Exegetical Commentary, Volume 1
Introduction and 1:1-2:47
Acts: An Exegetical Commentary, Volume 2
3:1-14:28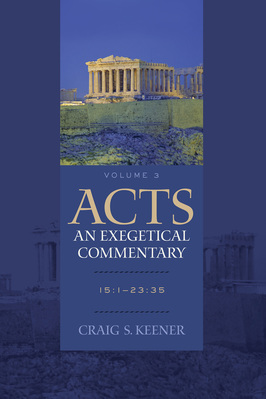 Acts: An Exegetical Commentary, Volume 3
15:1-23:35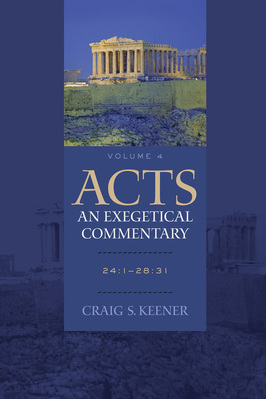 Acts: An Exegetical Commentary, Volume 4
24:1-28:31