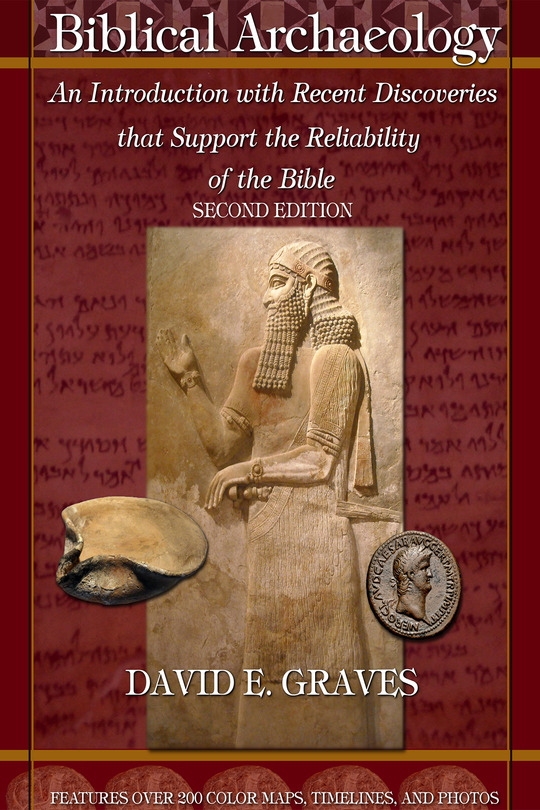 Biblical Archaeology, Second Edition
An Introduction with Recent Discoveries that Support the Reliability of the Bible
Product Details
Each year archaeologists discover many new finds at sites throughout the lands of the Bible, but few of them make the news headlines. Revisionist scholars often seek to undermine and downplay the relevance of many of the discoveries, believing that Sodom never existed, the Exodus never happened, Jericho never fell to the Israelites, and David was never a great king. This work challenges the minimalist views by bringing together many of the new discoveries from the last 20 years highlighting the recent finds that are relevant to the claims of the Bible. Experienced archaeologist David Graves has assembled a helpful collection of discoveries that will take you on a journey to:
Confirm the historicity of the biblical events and people of the past
Explore the full range of new archaeological discoveries, from pottery, inscriptions, seals, ossuaries, through to coins, manuscripts, and other artifacts
Present a short history of archaeology, outlining its characteristics and role in Christian apologetics
Lay out the limitations of archaeology and its methodological fallacies
Explain the meticulous method of excavation
Explore the significance of manuscripts for the transmission of the Bible
Navigate the maze of arguments between the minimalists and maximalists controversy
This insightful book will:
Illustrate archaeological finds with more than 140 pertinent color photographs
Provide numerous detailed maps, carefully crafted charts and tables of previous discoveries
Include helpful breakout panes, dealing with "Quotes from Antiquity," and "Moments in History"
Include a glossary defining technical archaeological terms
Provide extensive footnotes and bibliography for future study
This invaluable resource provides an interesting and informative understanding of the cultural and historical background of the Bible illustrated from archaeology. This is an accessible resource intended for laypeople who want to know more about archaeology and the Bible, whether in seminary courses, college classrooms, church groups or personal study.
About the Author:
David E. Graves (Ph.D., University of Aberdeen) has been involved in teaching the Bible and archaeology for more than thirty-five years and is currently an Assistant Professor at Liberty University Online, Rawlings School of Divinity. He is one of the worlds leading experts on Sodom. He has taught archaeology at Oxford University, England; provided tours of the Ashmolean and British Museums; traveled extensively in the Middle East; and been involved in Mount Ararat research. He is currently a supervisor at the Shiloh excavations, Israel and was part of the team who discovered and excavated the Dead Sea Scroll cave Q12 near Qumran, Israel (Jan 2017) and Tall el-Hammam (Sodom?), Jordan (2005-2015); and is a member of the Near East Archaeological Society (NEAS). He is the author of
The Seven Messages of Revelation and Vassal Treaties: Literary Genre, Structure, and Function; Key Themes of the Old Testament and the New Testament; The Location of Sodom;
and has authored a number of articles on the Bible and archaeology.