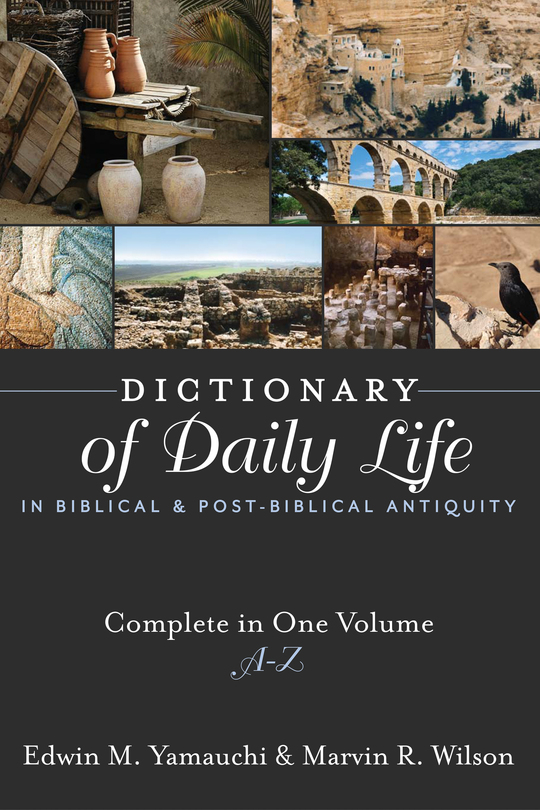 Dictionary of Daily Life in Biblical and Post-Biblical Antiquity
Complete in One Volume A-Z
Product Details
The Dictionary of Daily Life in Biblical & Post-Biblical Antiquity is a unique reference work that provides background cultural and technical information on the world of the Hebrew Bible and New Testament from 4000 BC to approximately AD 600.
Previously published in four individual paperback volumes, this one-volume hardcover edition covers topics from A-Z. This dictionary casts light on the culture, technology, history, and politics of the periods of the Hebrew Bible and the New Testament.
Written and edited by a world-class historian and a highly respected biblical scholar, with contributions by many others, this unique reference work explains details of domestic life, technology, culture, laws, and religious practices, with extensive bibliographic material for further exploration. There are 115 articles ranging from 5-20 pages long. Scholars, pastors, and students (and their teachers) will find this to be a useful resource for biblical study, exegesis, and sermon preparation.

About the Editors:

Edwin Yamauchi, Ph.D, is professor emeritus at the Miami University (Ohio) and co-founder of the Oxford Bible Fellowship at Miami University. He is also the former president of the Evangelical Theological Society, author of many articles, and author and editor of numerous books, including Persia and the Bible, Africa and the Bible, Pre-Christian Gnosticism, and Peoples of the Old Testament World.

Marvin R. Wilson began his teaching career more than forty years ago as a Greek teaching fellow. He is currently Ockenga Professor of Biblical and Theological Studies at Gordon College in Wenham, Massachusetts. He holds a PhD in Mediterranean Studies from Brandeis University.
Endorsements
The gifted contributors provide important surveys of both Old Testament and New Testament topics, helpfully providing background from the ancient Near East (for the Old Testament) and the Greco-Roman world (for the New Testament), as well as the later appropriation of the biblical material in Jewish and Christian sources. This invaluable reference work is a must for all students of the Bible.
Finally, we have been given a rich accordance of biblical knowledge. A remarkable collection of primary reference sources. The concrete topics give a better understanding of the meanings of scripture.
This creative new work introduces students, pastors, teachers, and other interested readers of the Bible to the patterns of life in ancient Israel in an understandable, engaging, and, yes, exciting way. Helpful bibliographies, knowledgeable treatments of relevant ancient texts and material culture, clear writing that avoids talking down to the audience, attention to under-discussed but relevant topics—all these qualities make this a reference work that will inform and delight readers for years to come.
This wonderful resource is much more than a dictionary. It is a compendium of substantive essays on numerous facets of daily life in the ancient world. I am frequently asked by pastors and students for recommendations on books that illuminate the manners, customs, and cultural practices of the biblical world. Now I have the ideal set of books to recommend.
This is not your standard Bible dictionary, but one that focuses on aspects of daily life in Bible times, addressing interesting and sometimes puzzling topics that are often overlooked in other encyclopedias. I highly recommend the Dictionary of Daily Life in Biblical & Post-Biblical Antiquity and will be giving it 'shout-outs' in my classes in the years to come.