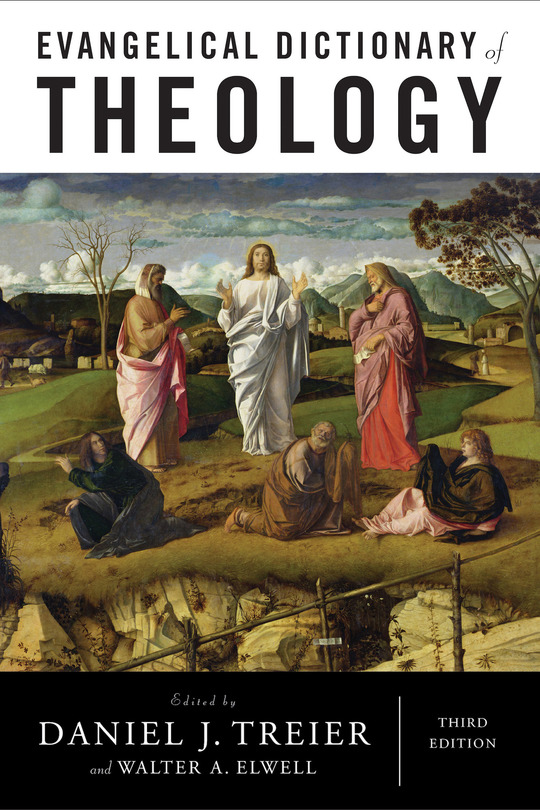 Evangelical Dictionary of Theology, 3rd Edition
Product Details
This bestselling reference tool has been a trusted resource for more than 25 years with over 165,000 copies sold. Now thoroughly updated and substantially revised to meet the needs of today's students and classrooms, it offers cutting-edge overviews of key theological topics.

Readable and reliable, this work features new articles on topics of contemporary relevance to world Christianity and freshened articles on enduring theological subjects, providing comprehensive A-Z coverage for today's theology students. The author base reflects the increasing diversity of evangelical scholars. Advisory editors include D. Jeffrey Bingham, Cheryl Bridges Johns, John G. Stackhouse Jr., Tite Tiénou, and Kevin J. Vanhoozer.
About the Authors:
Daniel J. Treier (PhD, Trinity Evangelical Divinity School) is Knoedler Professor of Theology at Wheaton College Graduate School in Wheaton, Illinois. He is the author of
Introducing Theological Interpretation of Scripture
and the coeditor of several books, including
Evangelical Dictionary of Theology
,
The Cambridge Companion to Evangelical Theology
, and the award-winning
Dictionary for Theological Interpretation of the Bible
.
Walter A. Elwell (PhD, University of Edinburgh) is emeritus professor of biblical and theological studies at Wheaton College in Wheaton, Illinois, where he taught for nearly thirty years. He is the coauthor of
Encountering the New Testament
and the editor of numerous reference works.
Endorsements
The Evangelical Dictionary of Theology and before it the Baker Dictionary of Theology have been valuable reference tools for decades. This latest edition, sixteen years after the previous one, is very welcome. Narrowing the focus to theology per se has created space for a fuller coverage of this area with many new entries. This book is no mere update or new edition but is a substantially new work in its own right. A valuable reference tool to have at hand.
Few reference works ever achieve the status of 'classic,' but the Evangelical Dictionary of Theology is one that has. I am glad to see this updated version ready to serve a new generation of theology students.
This is an indispensable tool for anyone who wants to study and communicate Christian Scripture and thought. I'm so grateful it has been enhanced for a new season.
For over thirty years the Evangelical Dictionary of Theology has been the first stop for students, pastors, and teachers to explore distinctly evangelical perspectives on crucial theological ideas, terms, and issues. This new edition brings much-needed voices from underrepresented communities to enrich and broaden our understanding. I could not be more pleased or enthusiastic about its release.
I commend the robust theological focus of this new edition of the now classic work, the Evangelical Dictionary of Theology. The sheer scope of evangelical contributors is breathtaking! In a day when words are daily humiliated, this volume is a powerful reminder of the power of words and their meaning. The articles contained in this excellent volume are important and well researched. I heartily commend it!
The new edition of the Evangelical Dictionary of Theology is a monumental achievement of evangelical scholarship. The articles and essays produced by the outstanding group of contributors to this remarkable, wide-ranging, balanced, and accessible volume will ably serve the next generation of students, pastors, and scholars alike. It is a privilege to recommend this work and to congratulate the editorial team who helped to shape this valuable resource.