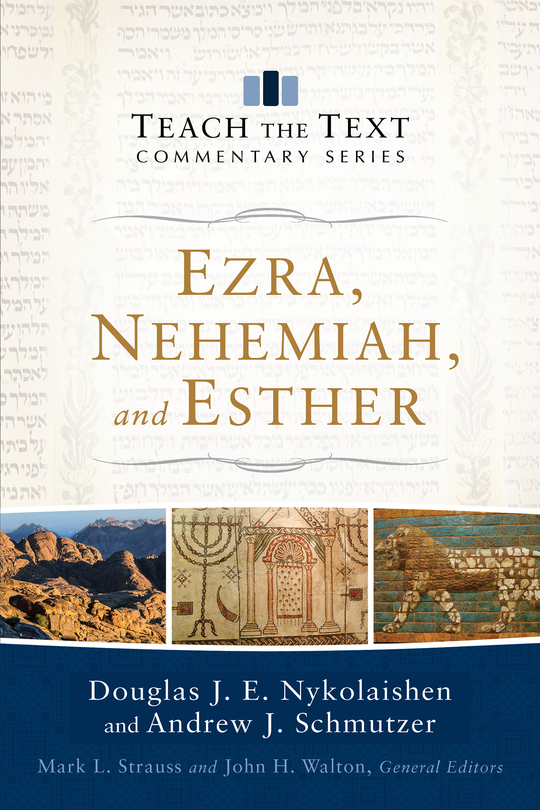 Teach the Text Commentary Series: Ezra, Nehemiah, and Esther
Product Details
The Teach the Text Commentary Series gives pastors the best of biblical scholarship and presents the information needed to move seamlessly from the meaning of the text to its effective communication. By providing focused commentary, this volume allows pastors to quickly grasp the most important information. Each unit of the commentary includes the big idea and key themes of the passage and sections dedicated to understanding, teaching, and illustrating the text.

Ezra, Nehemiah, and Esther are the historical books from Israel's postexilic period. While lacking miraculous intervention found in previous historical books, God is nevertheless active behind the scenes, working through human agency and sovereignly orchestrated "coincidences" to achieve his purposes: the restoration and protection of his people, despite opposition and outright threat.

About the Authors:

Douglas J. E. Nykolaishen (PhD, University of Edinburgh) is an ordained minister and professor of biblical studies at Ouachita Baptist University.

Andrew J. Schmutzer (PhD, Trinity International University) is professor of Bible at Moody Bible Institute. He is coauthor of Between Pain and Grace and has published in Bulletin for Biblical Research and Journal for the Study of the Old Testament.


Endorsements
Packed with colorful historical background material and cogent theological insight into the narrative stories, this is one of the most helpful commentaries I know of on these important books. Anyone planning to teach or preach from Ezra, Nehemiah, or Esther would be wise to drink deeply from this expertly written volume.
Resources such as Nykolaishen and Schmutzer's Ezra, Nehemiah, and Esther in Baker's Teach the Text Commentary Series are surprisingly difficult to find. They interpret Scripture firmly within its historical and literary contexts and help readers move beyond proof-texting to a genuine understanding of God's word to them, which is also God's word to us. Here you have an example of first-rate evangelical scholarship in service of the church, and I commend it with enthusiasm.