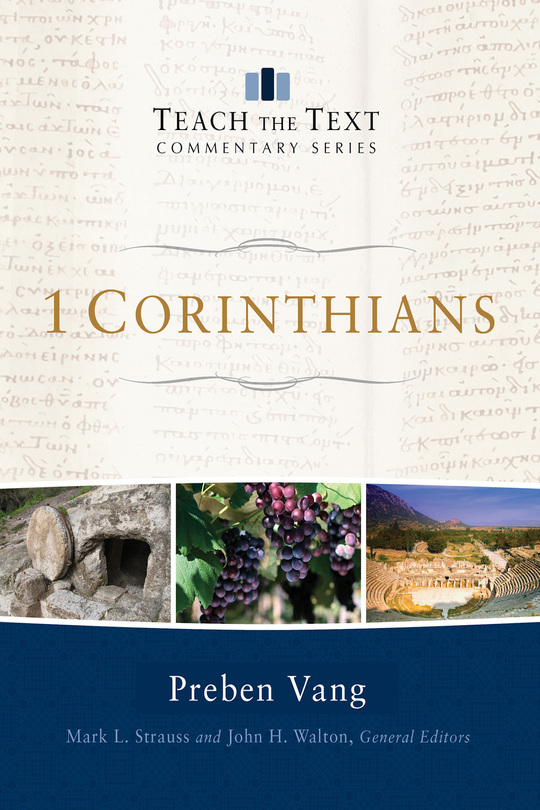 Teach the Text Commentary Series: 1 Corinthians
Product Details
The Teach the Text Commentary Series gives pastors the best of biblical scholarship and presents the information needed to move seamlessly from the meaning of the text to its effective communication. By keeping the discussion in each carefully selected preaching unit to six pages of focused commentary, the volumes allow pastors to quickly grasp the most important information. Each unit of the commentary includes the big idea and key themes of the passage; sections dedicated to understanding, teaching, and illustrating the text; and full-color images.

The apostle Paul wrote 1 Corinthians to a church rife with problems: factions, pride, spiritual immaturity, immorality, improper teaching, and problematic practices in worship. Preben Vang sheds light on these controversies and problems. In particular, he shows how the cultural values of Corinth, especially the patronage system and the rhetorical and philosophical environment, contributed to problems in the church. The issue of cultural influence on Christian life and church ministry is still as relevant as ever. This insightful commentary will equip pastors and teachers to bring the powerful lessons of this letter to bear on the twenty-first-century church.

About the Author:

Moyer V. Hubbard (DPhil, University of Oxford) is professor of New Testament language and literature at Talbot School of Theology, Biola University, in La Mirada, California. He is the author of New Creation in Paul's Letters and Thought, Christianity in the Greco-Roman World, and another commentary on 2 Corinthians.

Endorsements
Hubbard's commentary on 2 Corinthians is a treasure for students and preachers. Here we find expert exegesis deeply rooted in the historical context and culture of the day. At the same time, the theological message of each paragraph and its application for today's world are powerfully communicated.
Second Corinthians is a complex letter with a number of intricate issues. Yet it is a highly instructive and encouraging letter that has a rich array of implications for life in the church today. Moyer Hubbard has crafted an immensely helpful guide to this portion of Scripture in this installment of the practical Teach the Text Commentary Series. Drawing on his 20-plus years of study on 2 Corinthians, Moyer provides a very well-written and concise explanation of the text that is richly illustrated with examples from his in-depth understanding of the Greco-Roman world. Those with a regular preaching/teaching ministry will find exceptional value in this excellent commentary.