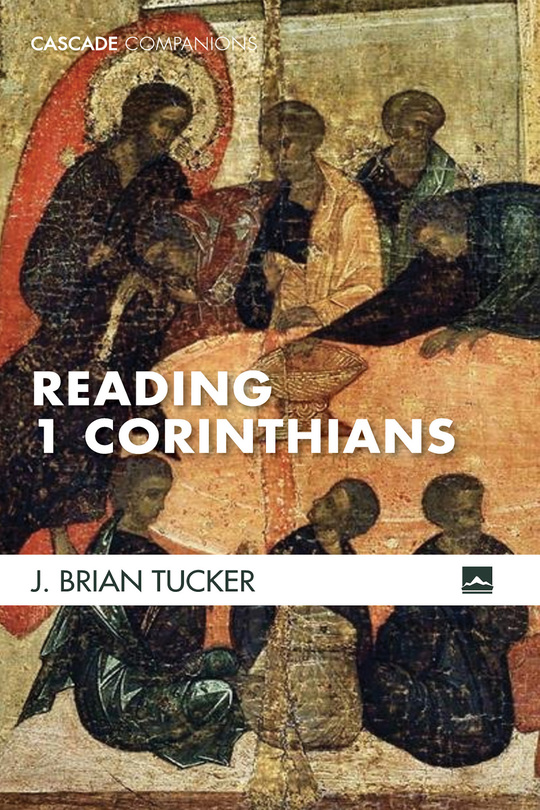 Cascade Companions: Reading 1 Corinthians
Product Details
First Corinthians offers readers a window into the social life and setting of an early Christ-movement congregation. The Apostle Paul's practical guidance to the Corinthians living in a Roman colony overlaps with many contemporary concerns: identity, leadership, sexuality, gender, diversity, worship, theology, and economics. All too often, however, the letter is read in an individualistic and supersessionistic way. Furthermore, parts of the letter are lifted out of their original context and applied in ways foreign to that setting.

This book reads the letter through the lens of social identity theory, a leading social scientific method for understanding the New Testament. This reading strategy is supported by a post-supersessionist perspective in which the church is not thought to replace Israel as God's people.

About the Author:

J. Brian Tucker is Professor of New Testament at Moody Theological Seminary in Plymouth, Michigan, and Honorary Research Fellow at the University of Wales, Trinity Saint David, UK. He is the author of You Belong to Christ (2010) and Remain in Your Calling (2011). He is co-editor of the T. & T. Clark Handbook to Social Identity in the New Testament (2014).
Endorsements
Brian Tucker offers a new way to follow Paul's arguments throughout 1 Corinthians by deftly weaving together the usual methodologies employed in historical exegesis with a sustained focus on insights gained from Social Identity Theory. Tucker's reading of the letter is clear and coherent.
This is no typical commentary on 1 Corinthians. Recognizing the importance of identity and with expertise in identity theory, Brian Tucker supplies an identity lens for readers to see with new perspective. The result is a practical and insightful explanation of 1 Corinthians that underscores how much Scripture focuses on identity issues and how relevant such thinking is for theological and missional purposes. This book deserves your attention.
J. Brian Tucker's Reading 1 Corinthians offers students, pastors, and general readers a sustained commentary on Paul's most practical epistle through the generative lens of social identity theory. American readers will value Tucker's lucid summary of the theories of Henri Tajfel and John Turner on the construction of social identity. The application of social identity theory to 1 Corinthians is especially appropriate, since the multiplicity of issues dealt with in 1 Corinthians reflects the diverse social and ethnic makeup of the Christ groups at Corinth, and reveals the presence and influence of a group of strong-minded persons whose views on a variety of subjects diverged sharply from Paul's own. At every point, Tucker succeeds in communicating the relevance of Paul's project in constructing and transforming social identity in Christ for the complex ethical decisions facing readers today.
By applying social identity theory from social psychology, Brian Tucker brilliantly re-situates and re-interprets all of the major questions raised by 1 Corinthians. While interacting with the best recent scholarship, the book is written succinctly and with a limpid style admirably attuned to the general audience at whom it is aimed. The astute discussion questions posed after each section show how easily within a social identity perspective Paul's ideas can be brought into fruitful dialogue with contemporary issues. If you only have time for one book on 1 Corinthians, choose this one.
Tucker, in this post-supersessionist reading of 1 Corinthians, presents Paul as seeking to construct an identity of calling in which existing identities are not erased but transformed, and in which key aspects of Roman social and civic identity are not rejected but tempered in keeping with the call of God. A brilliant and original application of Social Identity Theory to a Pauline text that shows what Pauline transformation through the call of God meant for those in Corinth. An exemplary book that should be read by all who seek to understand the gospel of Christ and to relate it to contemporary society.