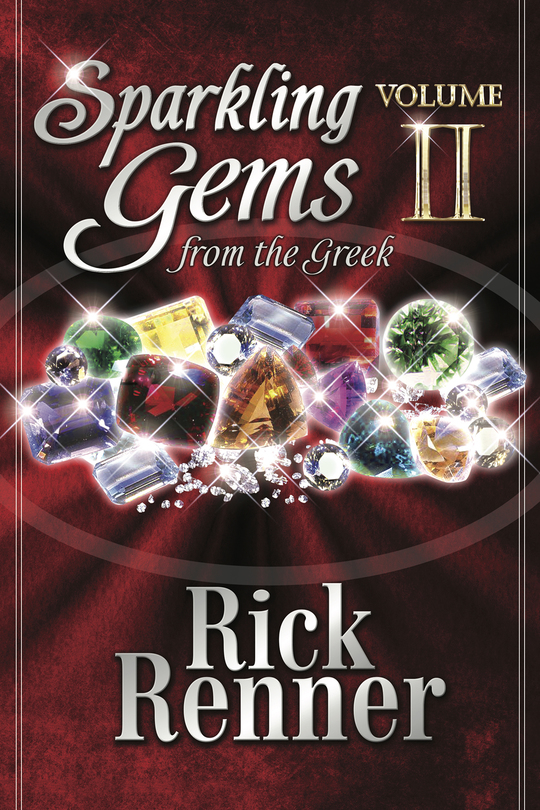 Sparkling Gems from the Greek, Volume 2
365 New Gems to Equip and Empower You for Victory Every Day of the Year
Product Details
"Sparkling Gems From the Greek, Volume 2 contains what I believe is some of my strongest teaching and best writing to date. In it I share the treasures of wisdom and knowledge that the Holy Spirit has unfolded to me through many decades of deep study, as well as through my fellowship with Him. I pray that the insights you find within these devotional studies will enlighten your understanding of God's Word, and strengthen your commitment to know and to follow the Lord fully in the shifting moral climate of these end-times."
— Rick Renner

Sparkling Gems from the Greek, Volume 2 is the result of thousands of hours of prayer and study. Author Rick Renner is a highly-respected leader and teacher who loves and has extensive knowledge of the Greek New Testament.

Building on Sparkling Gems from the Greek, which sold more than 100,000 copies in print, this new volume includes what Renner believes is his strongest teaching and best writing to date.

In Volume 2, Renner offers a masterful blend of poignant personal memories, intriguing historical perspective, and penetrating insights into the believer's role today. Woven throughout these daily "gems," Renner shares more than 1,000 unique Greek word studies with teaching that will challenge you to adjust your actions, realign your attitudes, and act on the practical applications of truth that are pertinent to your own walk with God. Through it all, Rick guides you into a deeper understanding of God's Word to strengthen your faith and reignite fresh passion to pursue God's plan for your life.

This volume is designed as a daily devotional but can be used as a Greek reference tool for your own personal study or sermon creation. In Wordsearch, you can use this volume to take time to focus on your relationship with God before starting your ministry work and study.

Each day includes a prayer, confession, and questions for you to consider throughout the rest of the day. You'll find challenges, reassurance, comfort, and reminders or God's love and healing every day of the year.

About the Author:

Rick Renner is a highly respected leader and teacher within the global Christian community. Rick first fell in love with the Greek New Testament when studying Journalism and Classical Greek at the University of Oklahoma. In the years that followed, he continued his extensive study of the Greek New Testament, later earning a Doctor of Philosophy in Ministry. With over 25 books published to date, Rick Renner has become known for his scholarly approach to the Greek language while he breaks down its components in such a way that the average reader can comprehend and absorb the depth of meaning it contains.

After ministering widely throughout the United States for many years, Rick answered God's call in 1991 to move his family to the former Soviet Union and plunge into the heart of its newly emerging Church. Today Rick's television broadcast Good News with Rick Renner can be seen across the entire former USSR. He has also distributed hundreds of thousands of teaching audio and videotapes, and his best-selling books have been translated into Russian, Polish, French and German. In addition to pastoring two fast growing congregations, Moscow Good News Church in Russia and Kiev Good News Church in Ukraine, Rick is the founder of the Good News Association of Churches and Ministries, through which he assists and strengthens almost 800 churches throughout the former Soviet Union.