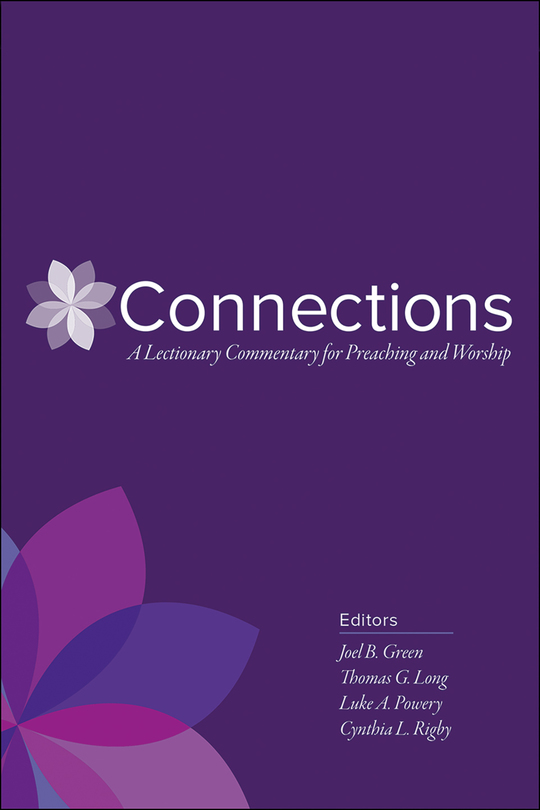 Connections Series
3 Volumes
Highlights
A great companion for Feasting on the Word
A practical, constructive, and valuable resource for preachers who seek to help congregations connect more closely with Scripture
Scot McKnight calls Connections "a must-use resource for Lectionary Preachers" and a Jesus Creed 2018 Book of the Year
Product Details
"Connections embodies two complementary convictions about the study of Scripture in preparation for preaching and worship. First, to best understand an individual passage of Scripture, we should put it in conversation with the rest of the Bible. Second, since all truth is God's truth, we should bring as many 'lenses' as possible to the study of Scripture, drawn from as many sources as we can find." -from the publisher's note
Designed to empower preachers as they lead their congregations to connect their lives to Scripture, Connections features a broad set of interpretive tools that provide commentary and worship aids on the Revised Common Lectionary (RCL). Even if you don't follow the RCL, Connections is geared specifically to the needs of preaching and will illuminate your study and preparation. You'll discover relevant, in-depth, and imaginative reflections on the lectionary by some of our generation's leading biblical scholars, theologians, homileticians, and other scholars.
The volumes in Connections begin with solid biblical scholarship and then go on to focus on the act of preaching and the ultimate goal of allowing the biblical text to come alive in the sermon.
Each Sunday of the RCL includes readings, and for each of these readings, Connections provides two commentaries. The first commentary focuses on the reading through the lens of the rest of Scripture; the second through the lenses of culture, film, fiction, ethics, science, and other aspects of contemporary life. They have been written by pastors, biblical scholars, theologians, and others, all of whom have a commitment to lively biblical preaching.
Connections is an abundant collection of creative preaching ideas, and it is also a spur to continued creativity. All who want to lead their congregation into a more faithful encounter with God through the journey of the lectionary will want to consider Connections.
This three-volume set covers one year (Year C, 2018-2019) of the three-year cycle of the RCL. Year A will cover 2019-2020, then Year B will cover 2020-2021.
About the Editors:
Rev. Dr. Thomas G. Long is the Bandy Professor of Preaching Emeritus at Candler Theological School, Emory University.
Cynthia L. Rigby is the W.C. Brown Professor of Theology at Austin Presbyterian Seminary.
Rev. Dr. Luke A. Powery is Dean of Duke University Chapel and Associate Professor of Homiletics at Duke Divinity School.
Rev. Dr. Joel B. Green is Provost, Dean of the School of Theology, and Professor of New Testament Interpretation at Fuller Theological Seminary.
Products Included In This Bundle