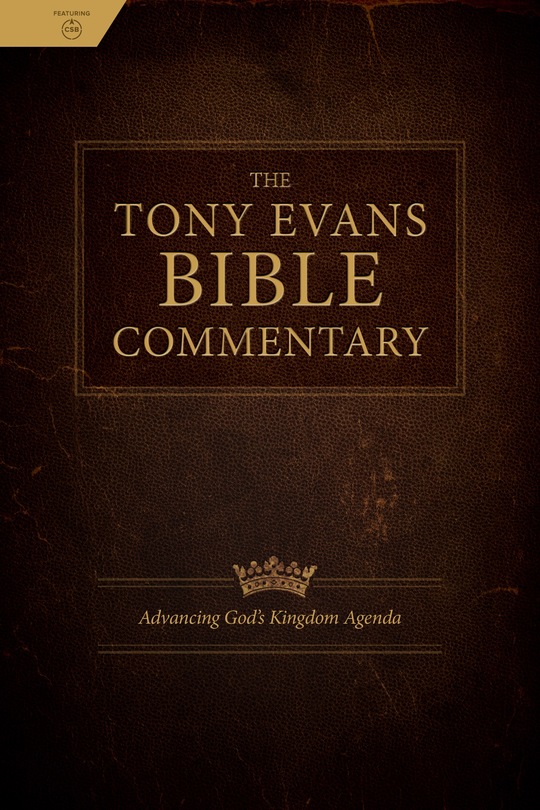 The Tony Evans Bible Commentary
Advancing God's Kingdom Agenda
Highlights
Written by one of the most influential church leaders of our time
Includes an introduction to each Bible book followed by passage-by-passage exposition of the entire Bible
Features the highly readable, highly reliable text of the Christian Standard Bible®
Product Details
"Applying what we read in the Bible to our daily lives is the highest purpose of Bible study. We don't study it so that we can win theological arguments or impress people with our knowledge. We read it so that God can use it to transform our lives. Therefore, we should read the Bible with humility and an open heart, being ready to be challenged and changed by God's Word. We should read it with an open mind, not assuming we already know what it means. The more you read the Bible, the more new and fresh truths you will discover in its pages. It is inexhaustible." - from The Tony Evans Bible Commentary

Tony Evans is one of the most influential church leaders of our time and has been studying and preaching the gospel for over 50 years. He also holds the honor of writing and publishing the first full-Bible commentary and study Bible by an African American.

A Kingdom Mindset

The Tony Evans Bible Commentary brings his experience and wisdom to your Wordsearch library as an invaluable research tool for studying the Bible. This commentary is based on a simple yet profound biblical worldview: the glory of God through the advancement of His kingdom.

Exposition of All 66 Books of Scripture

Beginning with helpful overviews of how to study the Bible, theology, doctrines, key terms, and more, the commentary also guides you through the entire Bible.

Each book of the Bible includes an introduction followed by passage-by-passage exposition. When you open this volume in Wordsearch, you'll see the Christian Standard Bible text of the verse followed by Evans' commentary. Each verse is also linked so you can view the text in any other Bible to compare translations.

This commentary is designed to be a valuable study resource for serious students of the Bible by combining exegesis, exposition, and exhortation that creates a relevant kingdom mindset. Evans asks you to meet with God, ask questions, and pray as you use this tool. With prayerful study, The Tony Evans Bible Commentary will aid you in your understanding and application of the Bible to your life.

About the Author:

Dr. Tony Evans is the founder and senior pastor of Oak Cliff Bible Fellowship in Dallas for over 43 years, founder and president of The Urban Alternative, long-term chaplain of the NBA's Dallas Mavericks and Dallas Cowboys, and author of over 100 books, booklets, and Bible studies. He has been named one of the 12 Most Effective Preachers in the English-Speaking World by Baylor University. Dr. Evans was the first African-American to be graduated from Dallas Theological Seminary with a Doctoral degree. He is also the first African-American to publish a Study Bible and Commentary. Dr. Tony Evans is married to Lois, his wife and ministry partner of over 50 years. They are the proud parents of four, grandparents of thirteen and great-grandparents of two. His radio broadcast, The Alternative with Dr. Tony Evans, can be heard on more than 1,300 US outlets daily and in more than 130 countries.