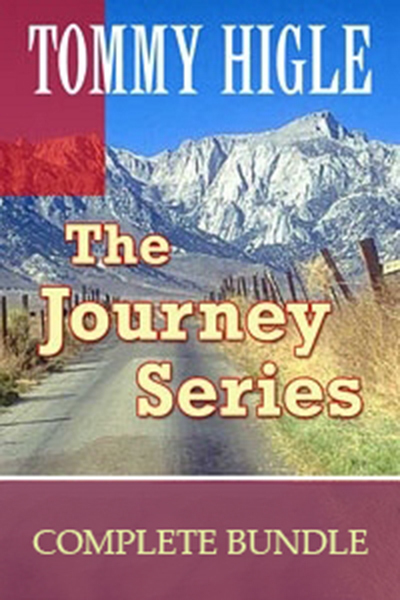 Journey Series Complete Bundle
60 Volumes
Highlights
Scripture-Synced Sermons
60 Volumes of the Journey Series Lessons, all the volumes currently available from Wordsearch
Higle is known for clear, simple exposition with practical application
Used by over 12,000 churches world-wide
As of January 2, 2020 the seven new volumes include Journey into Steadfast Living, Journey into Experiencing the Power of Jesus, Journey from the Beginning (Revised), Journey Through Adversity, Journey Through 2 Corinthians, and Journey with the Messiah (Parts 1 and 2).
Product Details
Author Tommy Higle knows that every Bible study is an adventurous journey. The Journey Series® is a library filled with insight and practical lessons that Higle, a seasoned pastor, spent over 30 years writing.
The Journey Series® was written for hungry students of God's Word. Each book is a series of lessons designed to be used for personal study, small groups, or Sunday school. Many pastors say they use The Journey Series® as ready-to-preach sermons. Over 12,000 churches have used this wonderful resource.
Tommy Higle guides you on your expository and topical journey through individual books of the Bible, lives of Bible characters, and topics pertinent to daily life. Higle has organized his series into 3 categories:
The Journey Bible Series takes a focused look at individual books of the Bible, such as Psalms, John, and Revelation.
The Journey Living Series concentrates on important elements of Christian life, for example Discipleship, Prayer, and Marriage.
The Journey People & Topical Series examines Bible characters, including Moses and Peter, plus important Bible topics, such as the names of God, and the second coming of Christ.
The Journey Series® is a massive library of exciting discoveries. You'll appreciate Higle's exposition and his engaging questions and answers.
Each volume in this set is Scripture-Synced. You already know how helpful syncing can be when you open Bibles and commentaries in Wordsearch. They stay in sync and scroll together. Any Bible you have opened in Wordsearch will automatically stay synced to your studies in The Journey Series®.
Check out a sample by clicking on the Sample button.
About the Author
After 47 years of pastoring six churches in Arkansas and Oklahoma, Tommy Higle now focuses on writing and on teaching pastors around the world. His Bible studies, called The Journey Series®, have been used by thousands for churches in all 50 states and at least 25 other countries. More than one and a half million "Journeys" have been sold. Higle is known for clear, simple exposition with practical application.
The Journey Series® is the registered trademark of Tommy Higle Publishers, Inc.
Endorsements
In The Journey Series®, Tommy Higle has provided the Sunday school teacher, youth worker, small group leader as well as the beginning or bi-vocational pastor with material that is well organized, easily taught and solidly biblical. This tool will save valuable time and prove to be a blessing to those you teach.
The Journey Series® is a timeless and tantalizing treasure. I've found it to be an enriching and edifying means to equip and engage our congregation into a deeper hunger and thirst for God's Word. The lessons are practical, user-friendly and profoundly powerful. I strongly recommend the use of this precious resource as it will prove to be an invaluable tool in ministering to others.
The 'Journey Studies' is an invaluable and must have resource for the busy pastor. The materials are practical and adaptable for a variety of pastoral and church needs. The scriptural integrity and usability of these materials makes them timeless for use in kingdom work.
Products Included In This Bundle