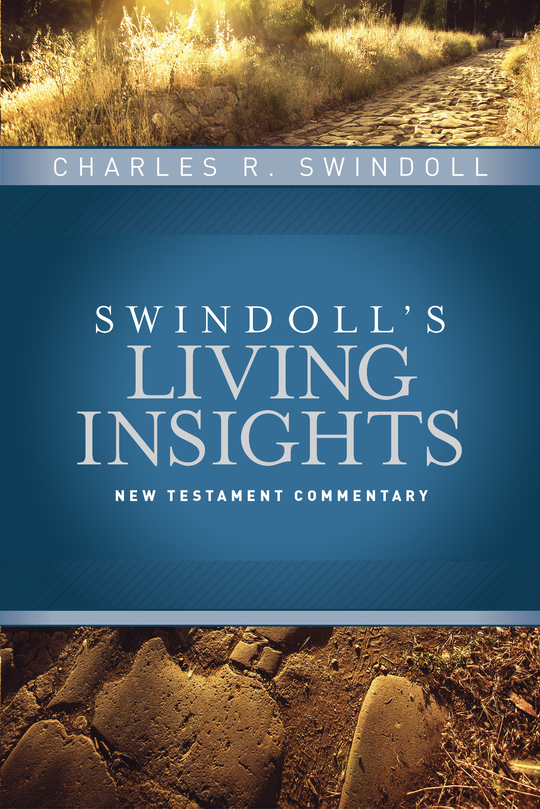 Swindoll's Living Insights New Testament Commentary
15 Volumes
Product Details
"My continued hope and prayer is that you will find these volumes helpful in your own study and personal application of the Bible. May they help you come to realize, as I have over these many years, that God's word is as timeless as it is true." -Chuck Swindoll
Swindoll's Living Insights New Testament Commentary brings the Bible to life. Newly revised and expanded, the 15 volumes draw on author and Gold Medallion Award winner Swindoll's 50 years of experience with studying and preaching God's Word. A self-proclaimed "addict" to the examination and proclamation of the Scriptures, Swindoll says his major goal in life is to "communicate the Word with accuracy, insight, clarity, and practicality."
15 Volumes Full of Practical Insights
Each volume in this series combines verse-by-verse commentary, charts, maps, photos, key terms, and background articles with practical application. Each of the updated volumes also includes a parallel presentation of the NLT and NASB before each section. In Wordsearch you can also compare these with any other Bible translation you have in your library.
Swindoll's deep insight, signature easygoing style, and humor bring a warmth and practical accessibility not often found in commentaries.
Using These Volumes in Wordsearch Makes Them Even Better
You can easily see the Strong's definition of the Greek he references by just hovering over the Strong's number. Swindoll is also constantly referencing Bible verses, and with Wordsearch, all you have to do is hover over the reference to read it, or click on it to open the verse and read more context.
This series is a must-have for pastors, teachers, and anyone else who is seeking a deeply practical resource for exploring God's Word.
About the Author:
Charles R. Swindoll is the founder and senior pastor–teacher of Stonebriar Community Church in Frisco, Texas. But Chuck's listening audience extends far beyond a local church body, as Insight for Living airs on major Christian radio markets around the world. Chuck's extensive writing ministry has also served the body of Christ worldwide, and his leadership as president and now chancellor of Dallas Theological Seminary has helped prepare and equip a new generation of men and women for ministry. Chuck and his wife, Cynthia, his partner in life and ministry, have four grown children, ten grandchildren, and six great-grandchildren.
Products Included In This Bundle